Are you an avid fan of Apple's MacBook series?
Or are you perhaps enthusiastic, fervently so, about their innovative AirPod series?
In any case, if you tick either of the boxes, here's a revelation for you: Your life will never be the same again. Figuratively so anyway.
Because there was an Apple event earlier this morning, and you'd love it.
1. New Chips

It's time to throw away what you know about the term MacBook.
Because it's set for a revolutionary "makeover."
For starters, the old M1 chips have been ditched in favour of the new chips M1 Pro and M1 Max.
They're touted to be 70% faster than their predecessors.
Comprising ten total CPU cores, the new chips will also boast significant higher graphics performances. Indeed, the M1 Max was revealed to be as much as four times faster than the old M1 chip in terms of graphics performance, while the M1 Pro is twice as fast.
In addition, the new chips will be capable of a distinctly higher memory space, with the M1 Pro capable of 32 gigabytes of memory and the M1 Max 64 gigabytes.
Chim? Basically, there are better chips even when chips are in demand everywhere.
2. New Features
As for the feature department, the new MacBook Pros will come with 24 per cent slimmer borders on the side, as well as a 60 per cent thinner border at the top.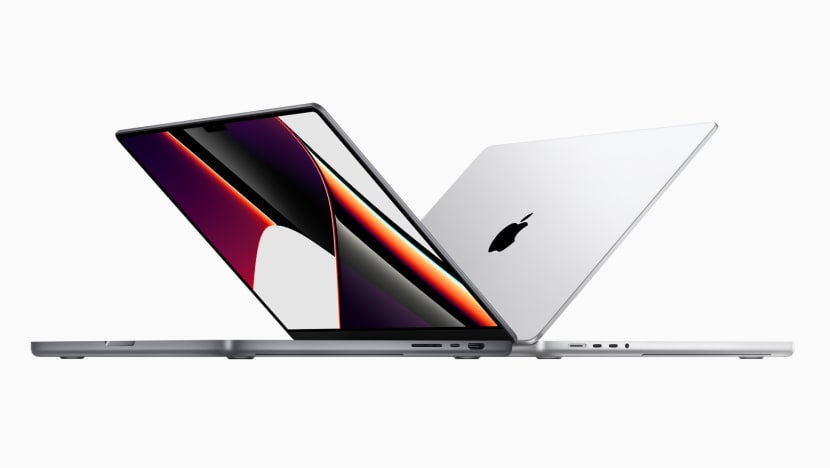 They will also sport a boxier look and will be without the Touch Bar function. Instead, a circular-shaped fingerprint scanner, as well as bigger functional keys, will be made present.
ProMotion, a display feature that increases the screen refresh rate, will also be added. A 1080p progressive-scan video-chat camera, as well as upgraded speakers and microphone, have been incorporated as well.
It should also be noted that three previously-removed ports, the HDMI port, an SD card slot as well as MagSafe charging, will return.
3. Enhanced Battery Life
It was revealed that the new 16-inch model can hit 21 hours of battery life when playing videos, while the 14-inch variation can hit 17 hours.
A fast-charge feature, which could jack up the charging speed from 0 to 50 fast, has been incorporated as well.
4. Price
The 14-inch version will cost US$1,999 (S$2,697), while the 16-inch iteration will cost US$2,499 (S$3,361).
Meanwhile, the high-end 16-inch version could set you back by as much as SGD$9,149.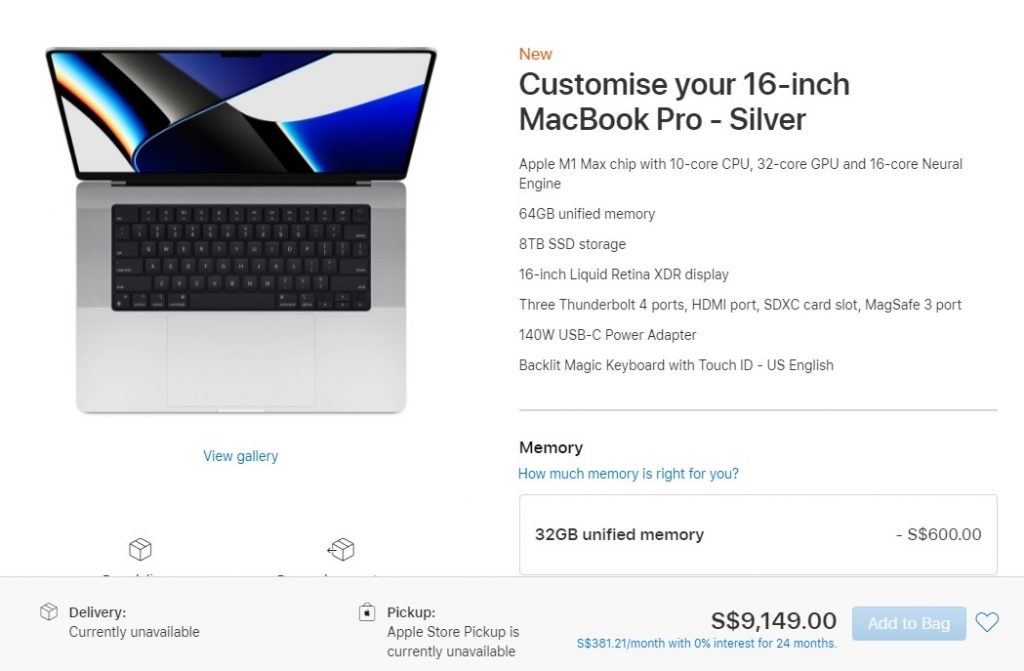 Yes, spending over $9,000 for a laptop is now a thing.
5. Third Gen
The third-generation of AirPods has also been announced.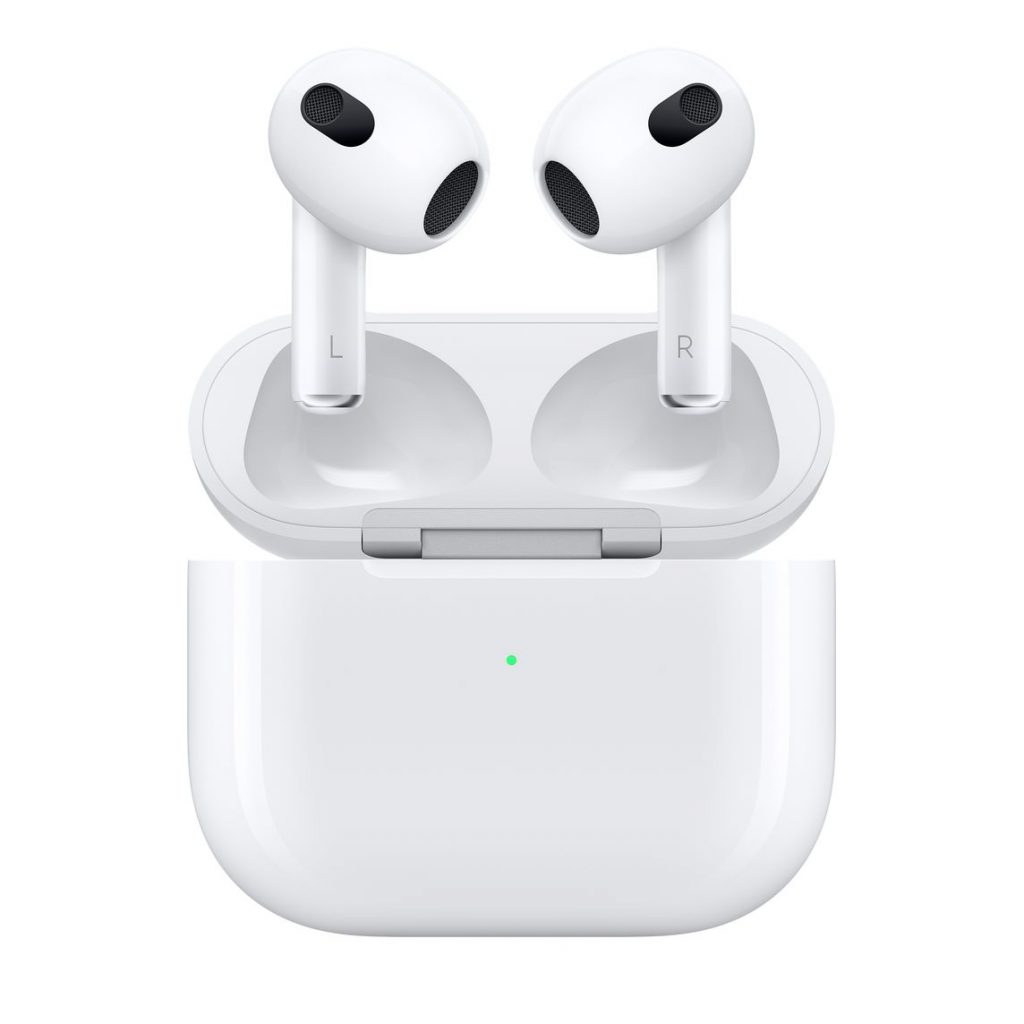 Touted to be sweat-resistant and water-resistant, they also boast spatial audio and a brand new design.
In addition, they will also entail some sound features that were incorporated in the higher-tier AirPods Pro.
The third version will retail at US$179 (SGD$240.74). The base model, on the other hand, has received a price reduction and will now retail for only US$129 (SGD$173.5) in the United States.
6. Charging Case
MagSafe charging will also be made available.
With the magnetic wireless chargers, charging of your earbud case will be made slightly more convenient.
7. Availability
The new laptops, as well as AirPods, will be made available in stores from 26 October 2021.
8. Music Streaming Service
At the same time, its Apple music-streaming service will also be undergoing a slight "duplication."
A US$5-a-month iteration has spawned, and it will supposedly permit access to its full music catalogue.
The new version will supposedly work through Apple's Siri voice assistant.
The full service, however, will remain at US$10 a month.
It should be noted, however, that the pandemic has caused a distinct shortage in chips as well as slowdown in the supply chain.
For instance, Apple's other recent releases, such as the latest phones and watches, have faced arrival delays until November or December.
For the full context, you can peruse the following video:
Read Also:
Read Also: Apple