In about a month, it's going to be Singapore's National Day. 
You know what that means? 
It means that Burger King's good old Rendang Burgers will be making a comeback—except this time, it's getting an upgrade. 
The Upgraded Version: The Double Ultimate Rendang Angus Beef Burger
On Wednesday (7 July), Burger King released a press release announcing the launch of the Double Ultimate Rendang Angus Beef Burger—the upgraded version of its Rendang Burgers. 
The Double Ultimate Rendang Angus Beef Burger will be available in Burger King outlets islandwide from 13 July, priced at $12.90 for a value meal.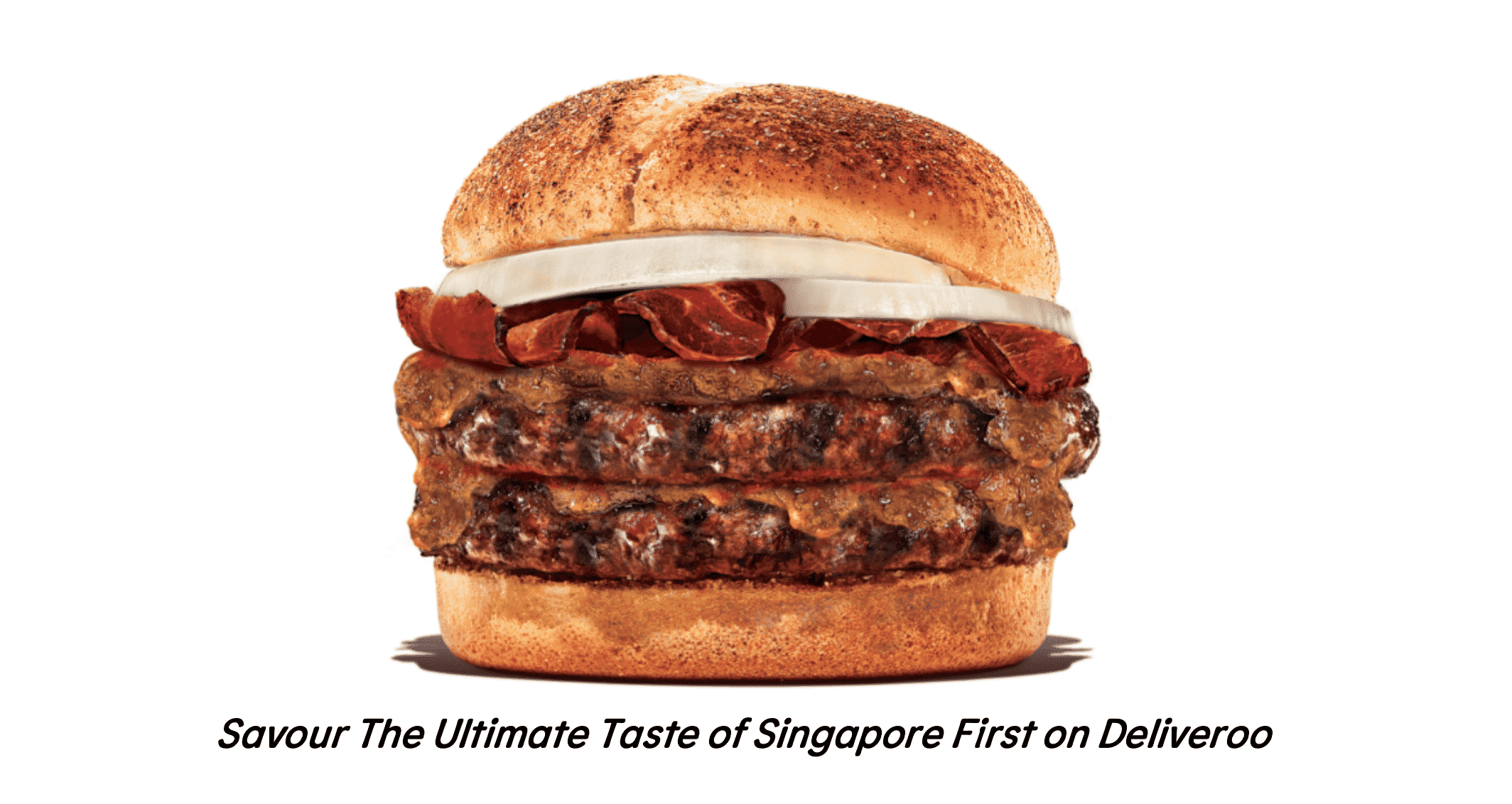 Now, though the burger isn't available in stores yet, its description certainly makes it sound absolutely mouthwatering. 
"This national treasure will feature not only two juicy, tender Angus flame-grilled beef patties, topped with BURGER KING®'s signature, sedap Rendang sauce and fresh onions, but this year, strips of crispy turkey bacon will also be nestled between fluffy corn-dusted sourdough buns," boasted the fast-food chain in its press release. 
If you're like me after reading this description and can't wait to get your hands on it—rejoice, because the wait is going to be shorter than expected. 
Burger King has announced an exclusive collaboration between it and the "knight of food delivery", Deliveroo. This means that the Double Ultimate Rendang Angus Beef Burger will be launched exclusively on Deliveroo 4 days before its launch in Burger King outlets, from 9 July to 12 July. 
On top of that, the first 560 customers who decide to upsize their Double Ultimate Rendang Angus Beef Burger on Deliveroo from 9 July to 12 July will be getting a complimentary Rendang Shiok Shake Up.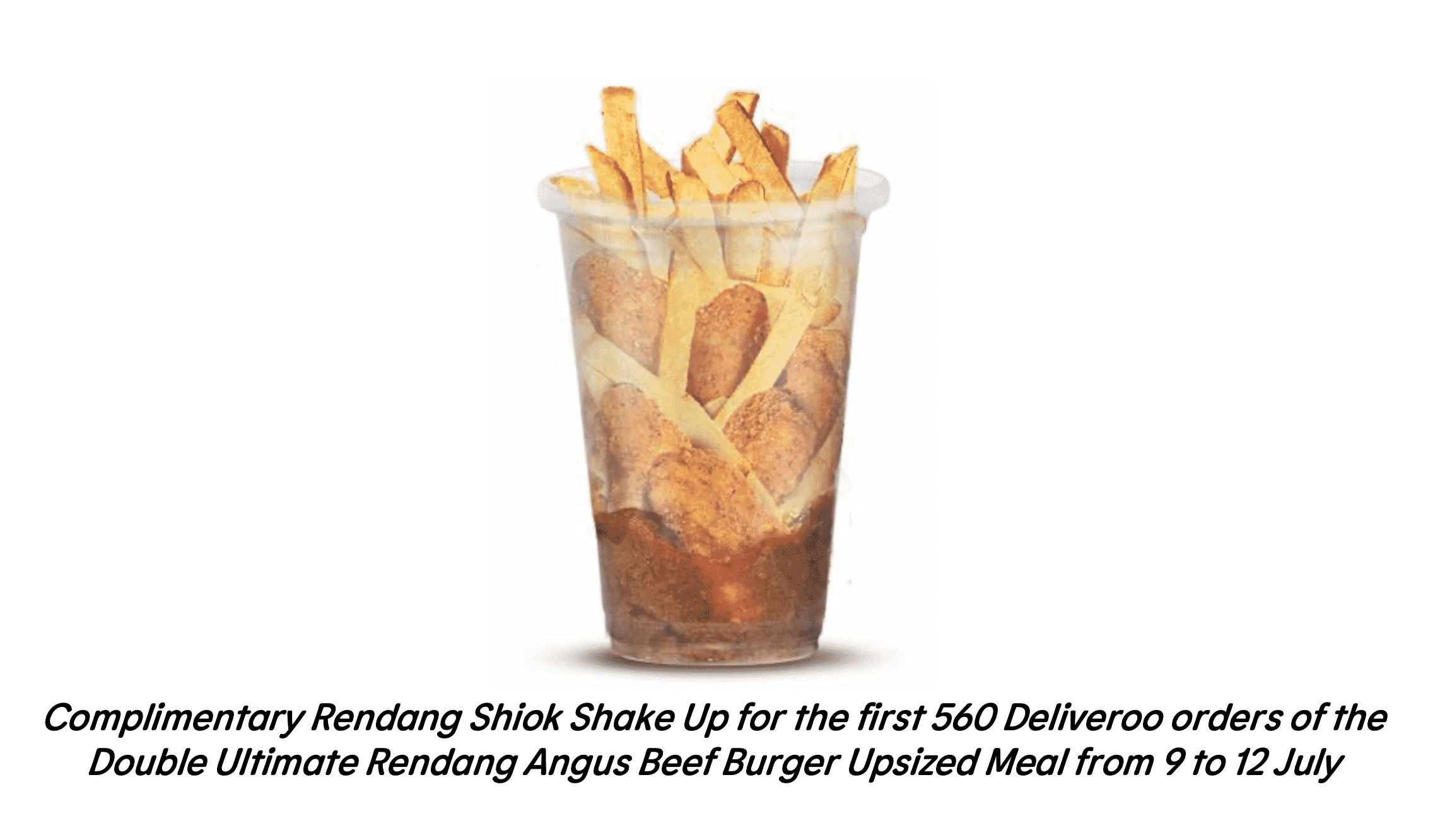 Priced at $4.90 à la carte, the Rendang Shiok Shake Up is "a cup serving up 6 nuggets with fries soaked in even more Rendang sauce"—essentially, the go-to to satisfy your rendang cravings. 
Original Rendang Burgers Returning Too
If you're an old fan that will miss Burger King's original Rendang Burgers regardless of its new product launch, fret not.
As it turns out, the classic Double Rendang Beef Burger and Rendang Tendergrill® Chicken Burger will also be making a comeback. 
From 13 July onwards, fans can purchase both burgers at Burger King stores islandwide, or order online on Deliveroo. The value meals for both burgers are priced at $7.90 each. 
Sweet Drinks and Desserts Inspired by Local Flavours
In full celebration of National Day, Burger King has also launched a series of new drinks and desserts that are inspired by local flavours. 
Want to demonstrate your patriotism by appreciating true local flavours in your meal?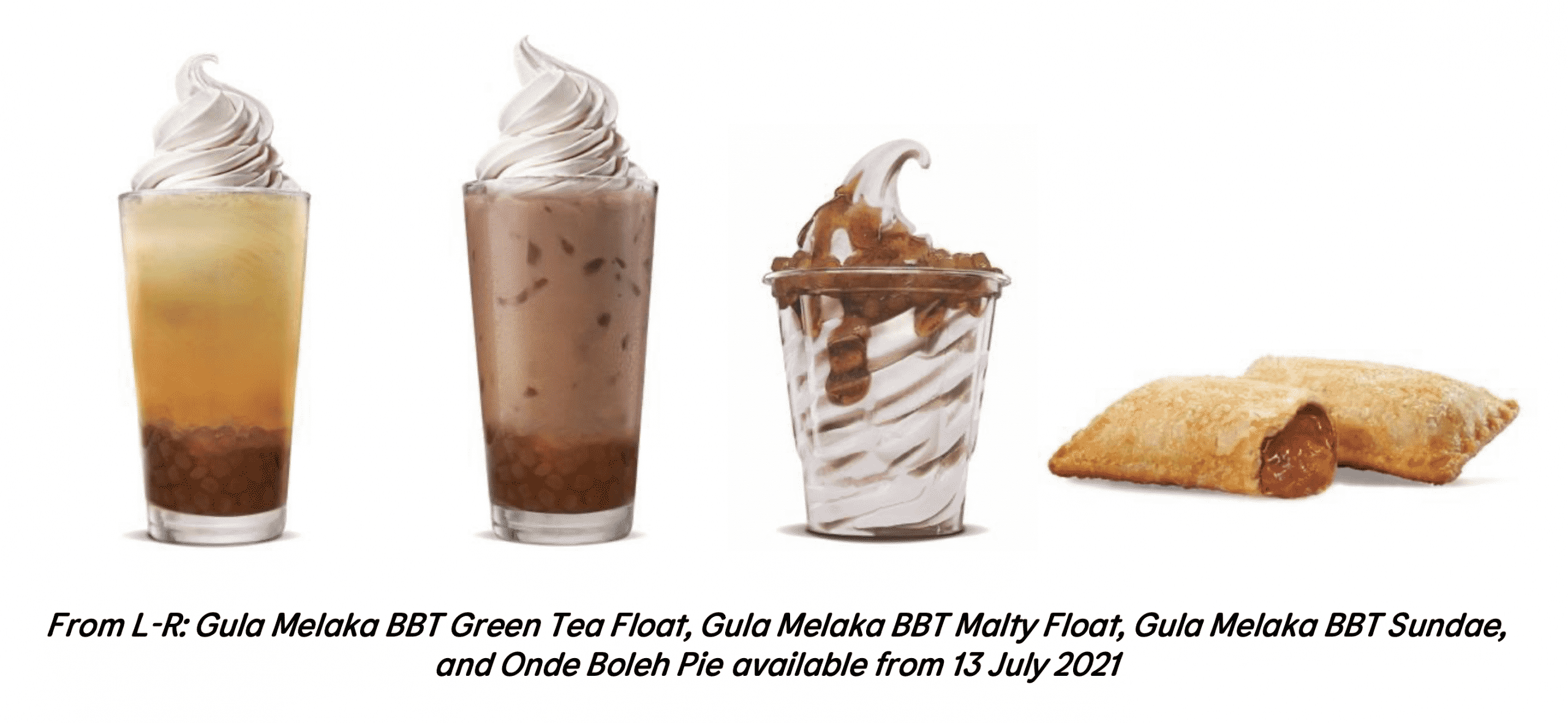 Try Burger King's new Gula Melaka BBT Green Tea Float, Gula Melaka BBT Malty Float, and the Gula Melaka BBT Sundae. The former two are both priced at $3.90, while the sundae will be priced at $2.60. 
Yes, the BBT refers to BUBBLE TEA.
If you're in a pastry mood, there's also Burger King's new One Boleh Pie, priced at $1.80. As described in Burger King's press release, the pie is "filled with deliciously sweet gula melaka coconut and wrapped up in a crispy crust."
Rendang Burger Will be Making Comeback Every Following National Day
The best news of all? 
This wouldn't be the last we're seeing of Burger King's Rendang Burger. 
Instead, the company has announced that from this National Day onwards, the iconic Rendang Burger will be making a guaranteed comeback every National Day. 
"We know that Singaporeans love the Rendang Burger. We also know that whenever it features as one of our comeback burgers we get inundated with fans wanting it to come home for good, so it just seemed fitting to give the Rendang Burger the national treasure status it deserves. As so much uncertainty continues in our lives, it feels right that we guarantee its homecoming each year," said Irene Tay, Marketing Director at Burger King Singapore.
Featured Image: Burger King Singapore