If you have any doubt that the ruling portion of Malaysia is like House of Cards right now, reading this article will clear them away soon enough.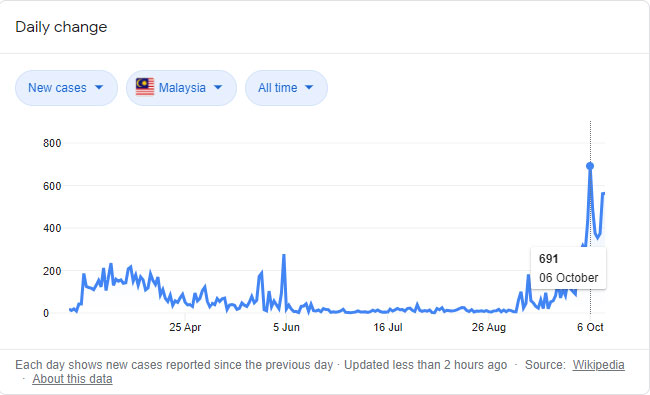 Despite Malaysia going through another wave of Covid-19 infections and three territories going into CMCO (again), it's not enough to keep the political drama out of the public eye.
On 23 Sep, Anwar stepped forward to claim a "strong majority" of support in parliament.
This, he says, is good enough for him to form the next government as the next prime minister of Malaysia.
However, he refused to name his supporters, saying the King of Malaysia should be the first to know the details.
On 12 Oct 2020, several UMNO MPs who supposedly support Anwar lodged police reports. The reason? They apparently didn't support him, or even knew that he needs to be supported.
Out of the 22 UMNO MPs who supposedly support Anwar, 15 of them have outright denied their claims.
Nonetheless, Anwar proceeded to meet with the Agong (think of him as the King of Malaysia) successfully.
Here's the aftermath of the meeting.
Evidence Submitted
Yesterday (13 October), Anwar held a press conference to announce that he has met with Agong and that he has submitted documents proving his claim of a strong majority of support.
Agong, he says, will make a decision in the coming days "based on the evidence".
"With these documents, it is abundantly clear that we have registered a formidable convincing majority among parliamentarians."
He added that since the current-PM Muhyuddin has lost the majority support in parliament, he should resign, as is "appropriate".
Agong's Response
Less than half an hour after Anwar's press conference, the royal palace issued a statement in response to the meeting between Agong and Anwar.
It was claimed that while Anwar did mention the number of people in parliament who supports him during the meeting, he did not address the point of contention:
Who exactly are the ones supporting him?
It's like me going to my boss and saying, 75% of the staff in the office wants you to give me a 100% increment, but refusing to tell him who exactly said it.
For all he knows, it could be the cats in the office.
However, the heads of the political parties will still be summoned to meet with the king to verify Anwar's claims.
Ex-PM Mahathir's Response
Previously, when Anwar claimed to have majority support in parliament, he revealed that Mahathir was not one of the MPs.
Then, he had said that he (Mahathir) "might decide later".
Turns out that the "later" is now.
Mahathir, who is the head of his own political party, Pejuang, revealed in a one-minute video that he is not endorsing any individual and his party will remain neutral.
You'll expect the article to end here, but wait, there's more.
UMNO's Response
Ready for the House of Cards? Here goes.
Apparently, Umno's leader also met with Agong on Tuesday afternoon, 13 Oct 2020.
But that's not the only thing Umno did that made them the media headline.
They've also threatened to pull support from the Perikatan Nasional (PN) government, led by PM Muhyuddin.
If they go through with the threat, it could lead to the collapse of the current administration.
According to Umno information chief Ahmad Maslan, the former ruling party is now drafting out new conditions for the PN government which must be met if they don't want Umno to leave.
Shark. Smells blood. Attack. Who cares that the entire ocean is burning, right?
The Possible Cause
If you were keeping up with the news on Malaysia politics, you'd quickly come to realise that Umno changed their tune pretty quickly.
Previously, they endorsed the current government.
Then, they opposed Anwar's claims, which practically means protecting current-PM Muhyuddin.
And now, less than 24 hours later, they're now on the other side.
It was speculated that the victory by PM Muhyuddin's party, Parti Pribumi Bersatu Malaysia, in the Sabah elections has caused increased tensions between Umno & his party.
It was also pointed out that the drastic decision came after Umno's top leadership went to attend a meeting chaired by president Ahmad Zahid Hamidi, someone who's speculated to be supporting Anwar.
Exciting.
Whichever the case, it's now up to the Agong on what to do with the situation (you can read about what he can do here).
But one thing for sure, it's likely that a snap election wouldn't be called, given the worsening Covid-19 situation in Malaysia.
Meanwhile, Kuala Lumpur, Putrajaya and Selangor have entered Conditional Movement Control Order (CMCO) today.
And in case you're thinking, "Wah, so happening one ah, like drama seh."
Well, you can watch Borgen, a political drama that's now streaming in Netflix. The setting takes place in Denmark's government, but some parts of the drama are so eerily similar to what happened in Malaysia that you might wonder if that's a documentary or a drama.
---
Advertisements
---
Enjoyed this article because it's both informative and entertaining? If so, you should download the Goody Feed app so that you won't miss out on any articles, as there are app-exclusive contents as well! Also, join our Telegram channel if you use Telegram often!
Latest & Popular Articles You Must Not Miss:
---
Advertisements
---
---
Advertisements
---
Our Most Popular Videos You Must Not Miss:
---
Advertisements
---