Namewee, the popular Malaysian rapper-singer is back once more with another film called Nasi Lemak 1.0 which will start airing in various cinemas in Singapore tomorrow!
Judging from the title alone, Nasi Lemak 1.0 can be presumed to be a prequel and sequel to his debut film Nasi Lemak 2.0 which was previously released in 2011.
Synopsis of Nasi Lemak 1.0
According to the given hypnosis, the recurring main character Huang Da Xia—better known as "Hero Huang" in his local community—is back once more, facing off his greatest nemesis, Lan Qiao.
For the sake of saving his failing restaurant, Hero Huang needs to challenge him once more in a cooking competition, but due to the intense collision of their "Qigong" (energies), this sends Hero Huang back in time 600 years ago, to the ancient Malacca Sultanate.
From details in the trailer, Namewee is serious about the entire concept of "time-travelling" as seen from the general settings of a golden and thriving Sultanate throne room and visits from the Ming Dynasty's envoys, which did occur due to diplomatic ties that started between both countries in 1420, with the friendly relations peaking during Sultan Mansur Shah's reign.
Finer Looks into the Details
Judging from the fact that Hang Tuah—the most powerful laksamana (admiral) in Sultan Mansur Shah's reign—has yet to be born, it can be assumed that this movie takes place before 1444, which means the Malacca Sultanate merely four-decades-old at this point.
If the same themes from Namewee's debut film continues to stay true and substantial in Nasi Lemak 1.0, then you can certainly expect simple, light-hearted slapstick comedy that the Malaysian rapper often uses to glaze over sensitive topics that are prevalent in Malaysia.
Whether it's social inequality, racial tensions, or intolerance, these are topics that Namewee often broaches regardless of which artistic medium he uses.
The fact that the new movie's premise is to travel back in time, to the very root of where all these tensions might have begun, starting from the introduction of Islamism at wide into the monarchy and ruling system, with various cultures and ethnicities drifting ashore from trade and the humble prospect of rebuilding a new life on a foreign island, only supports that Namewee's intention to magnify these topics on the silver screen.
But rather than inciting intolerance, Namewee has a unique charm in his movie direction and production in the sense that he is capable of bringing appreciation and acceptance of these various cultures despite their differences.
It's evident that this movie is not targeted at a specific demographic but the entirety of Malaysia, especially given that different languages were spoken in the span of the short trailer, and the movie is subtitled in English, Malay, and Chinese.
From a surface look, it seems like the main goal of Nasi Lemak 1.0 is to ensure that the major and minor ethnicities of Malaysia are capable of enjoying and understanding the plot and unique Malaysian humour.
Perhaps, Namewee even intends on using the movie as a means to reunite and reconcile the differences by giving more screen time to the old cultures to encourage cultural awareness, even if it is through something as common as food like Nasi Lemak.
Join our Telegram channel for more entertaining and informative articles at https://t.me/goodyfeedsg or download the Goody Feed app here: https://goodyfeed.com/app/
Nevertheless, Nasi Lemak 1.0 has a unique and racially diverse cast of Saiful Apek, David Arumungam, Delimawati, Wak Doyok, AC Mizal, Karen Wong, and Yumi Wong, which is rarely seen in the Malaysian film industry.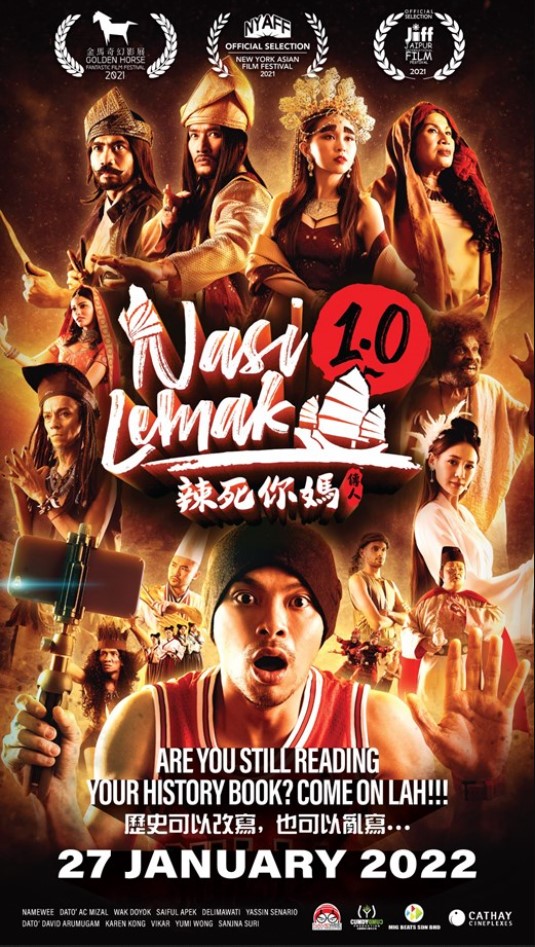 Moreover, since Namewee is directing and producing the movie, humour is a guarantee, and it might be interesting to see what kind of artistic liberties Namewee will take in twisting and bending what Malaysia has cemented as its foundational  history.
Showtimes in Singapore Cinemas
Nasi Lemak 1.0 will mainly be showing in Cathay Theatres tomorrow at Causeway Point, Ang Mo Kio Hub, and West Mall, as well as WE Cinemas.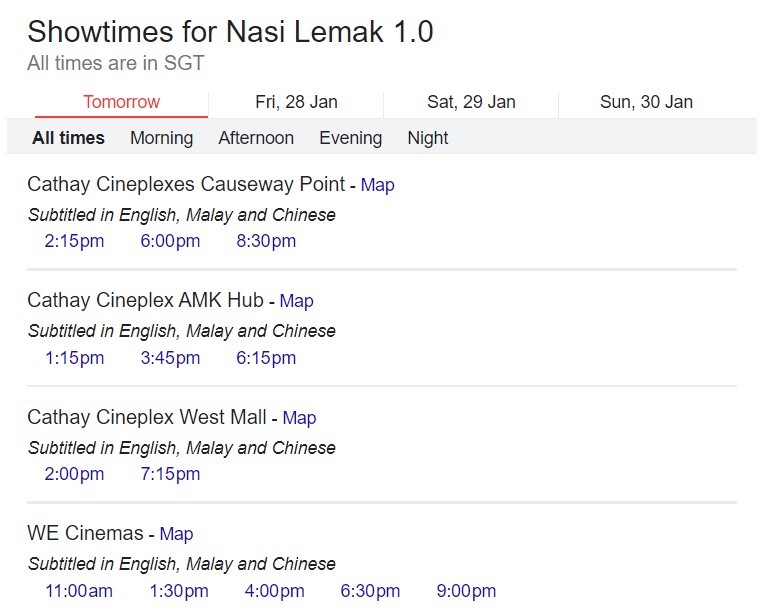 Book your tickets while they are available at the cinemas nearest to you!
Read Also:
Featured Image: Paragon Cinemas Malaysia