Our green city is just about to get even greener, because a new Pasir Panjang Park will be opening to the public in phases from 2021.
Now, what is this park that has everyone talking about?
New Pasir Panjang Park That'll Open from 2021
Here's a fun fact: Pasir Panjang means long sands in Malay, as it represents the long sandy beaches that were in the area before reclamation.
Pasir Panjang Park is a part of the redevelopment plans of the waterfront and will be unveiled in 2021. Cycling and nature enthusiasts, you will be excited to explore this revamped territory.
Stretching from West Coast Park to Labrador Reserve, the new park will be a part of the Great Southern Waterfront. The waterfront boasts about 2,000 hectares of land as reported by Prime Minister Lee Hsien Loong.
What can you expect?
A Spoon Of Greenery And A Dash Of History
Well, you can look forward to fresh air during morning walks and will feature new historical elements.
Minister of National Development Desmond Lee reported that 170 stakeholders were involved in the planning of the new park's visuals and features.
Stakeholders include residents of the area and other interest groups.
You can expect sandy lanes reminiscent of the long sandy beaches and urban vegetation among the many new aspects.
They aim to create "a Pasir Panjang memory lane, through incidental encounters with purposefully curated artefacts and programmes by the community, for the community."
Coastal vegetation will be restored and highlighted in the design to preserve the knowledge.
As visitors walk down memory lane, they will be able to look at #throwback photographs on the boards and heritage gallery. History geeks, this is your time to shine.
To make the whole park embody a more natural look, structures like public toilets will have green walls and roofs. Now, we can finally do business in a cooling environment, since plants on buildings have the ability to drop temperatures.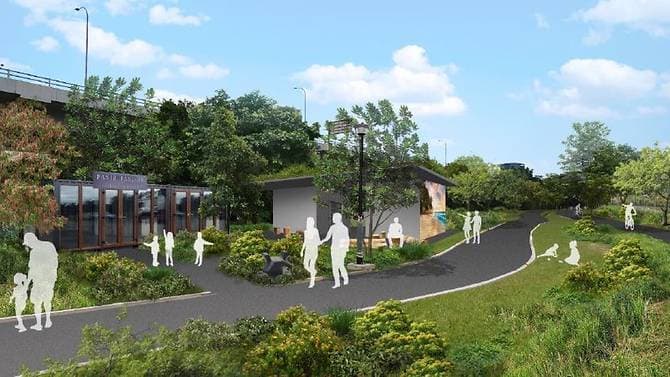 More than half of the stakeholders also suggested that the park's features should highlight and bring out natural elements by using minimal man-made structures.
Coastal Views
The agency announced that "The restored coastal vegetation at Pasir Panjang Park not only strengthens the recreational link between West Coast Park and the southern waterfront, it will also serve as a buffer for Labrador Nature Reserve by providing the public with an alternative node to connect with nature."
The park is accessible through many MRT stations such as Haw Par Villa MRT, Pasir Panjang MRT and Labrador MRT stations, because it's so bigly.
Adults aren't the only ones who get to enjoy the good stuff.
NParks has also said that a children's nature play garden will be included in the design to cater to the little ones. It will benefit parents who are teaching children about plants and objects and help with sensory learning.
The first section to be unveiled and opened to the public is the Pasir Panjang MRT to Jalan Pelepah residential estate in 2021.