Do you know the number of COVID-19 cases that were reported yesterday?
Neither do I.
With people crowding to watch a busker performing and youngsters dancing together in clubs, you might've forgotten that COVID-19 still exists.
But it does, and the number of cases in Singapore has been rising steadily.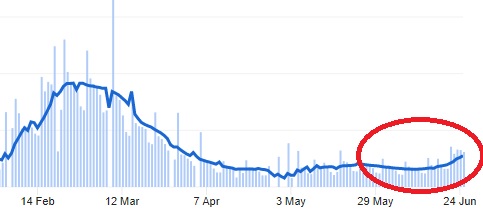 Health Minister Ong Ye Kung predicted that a COVID-19 wave might come as early as next month. Watch this and you'll understand:
However, experts interviewed by mainstream media said that it's unlikely that the safe management measures we've since forgotten would come back, and as a wise man once said…treat the experts' predictions as facts because they're time travellers.
And as expected, DPM Lawrence Wong has confirmed that.
Lawrence Wong Confirms There's No Need for New COVID-19 Rules Now But That Cannot Be Ruled Out
No, don't worry; there's no press conference. That is so yesterday.
DPM Wong was speaking to reporters after touring a mobile vaccination centre at Nee Soon Central.
With cases rising steadily, he said, "We must expect cases to continue rising in the coming weeks fortunately, there is no evidence of increased severity with this subvariant and overall hospitalisation situation remains stable.
"So, for now, our assessment is that we will be able to ride through this wave based on our current posture. In other words, we do not need to tighten our safe management measures at this stage."
But that might change if the situation changes, so don't bet on it…yet.
He also added that every household will receive 10 ART kits as part of another round of ART kit distribution sometime next month.
Featured Image: YouTube (CNA)