Apart from the occasional wild boar and monkey, residents in Singapore don't come across wildlife that often.
That's why it's always nice to head to parks and wildlife reserves where we can catch a glimpse of some rarely-spotted creatures in their natural habitats.
One such creature is the monitor lizard, a shy animal which typically avoids humans.
While usually seen crawling across large patches of grass, one was recently seen in the MacRitchie reservoir, and it wasn't there for a swim.
Monitor Lizard's Carcass Found at MacRitchie
The sight of a monitor lizard's carcass in MacRitichie reservoir has sparked concerns about illegal fishing in Singapore.
Pictures of the deceased lizard were first shared by a Facebook user on the group Singapore Wildlife Sightings. 
In the post, the user shared two pictures of what looks like a dead monitor lizard floating in a body of water.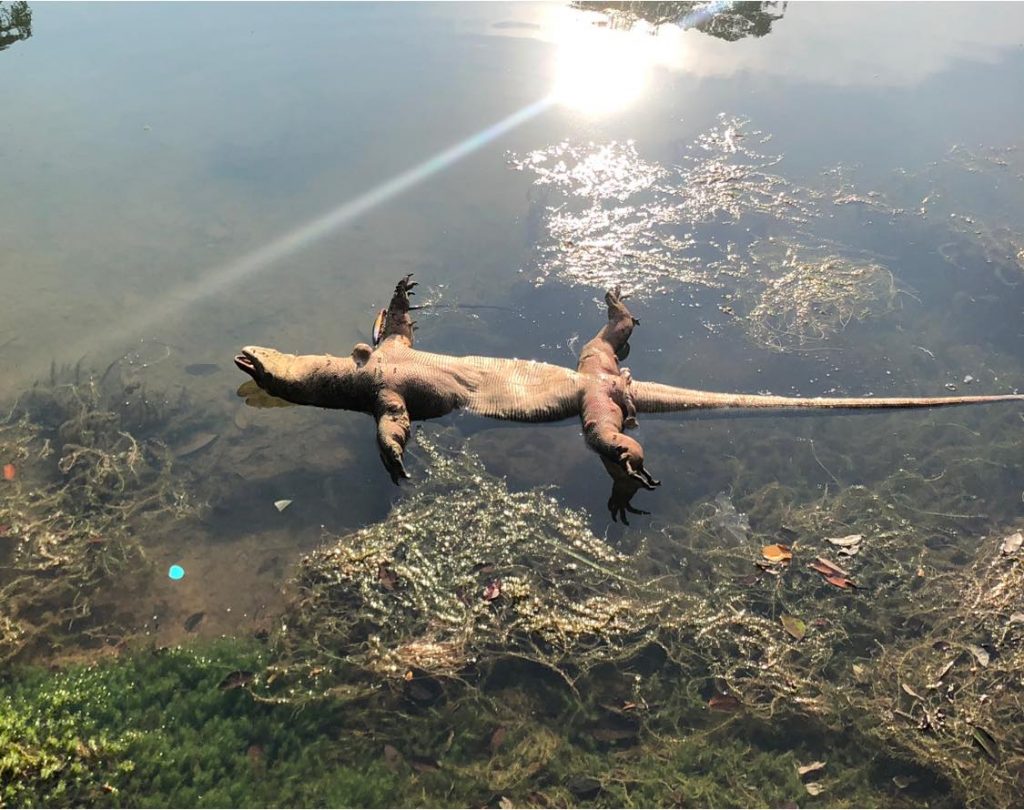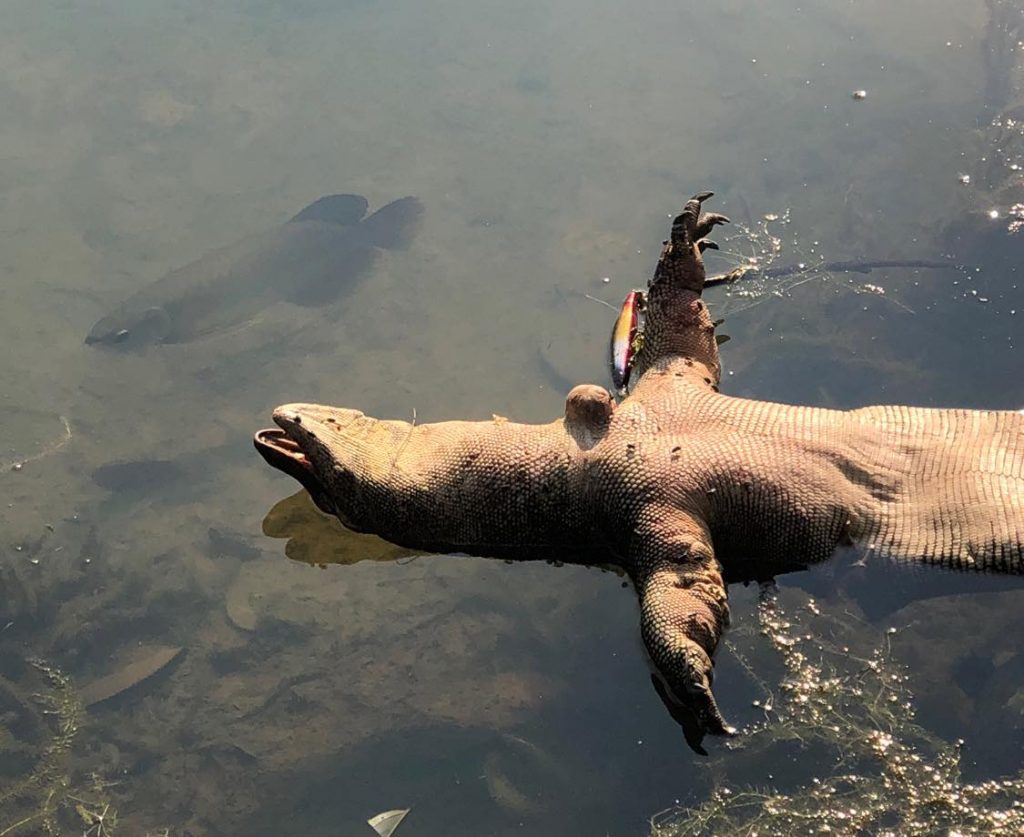 In the post, the user claims that the lizard was killed by a "fishing tackle", which is the equipment used for the sport of catching fish, such as a rod and line.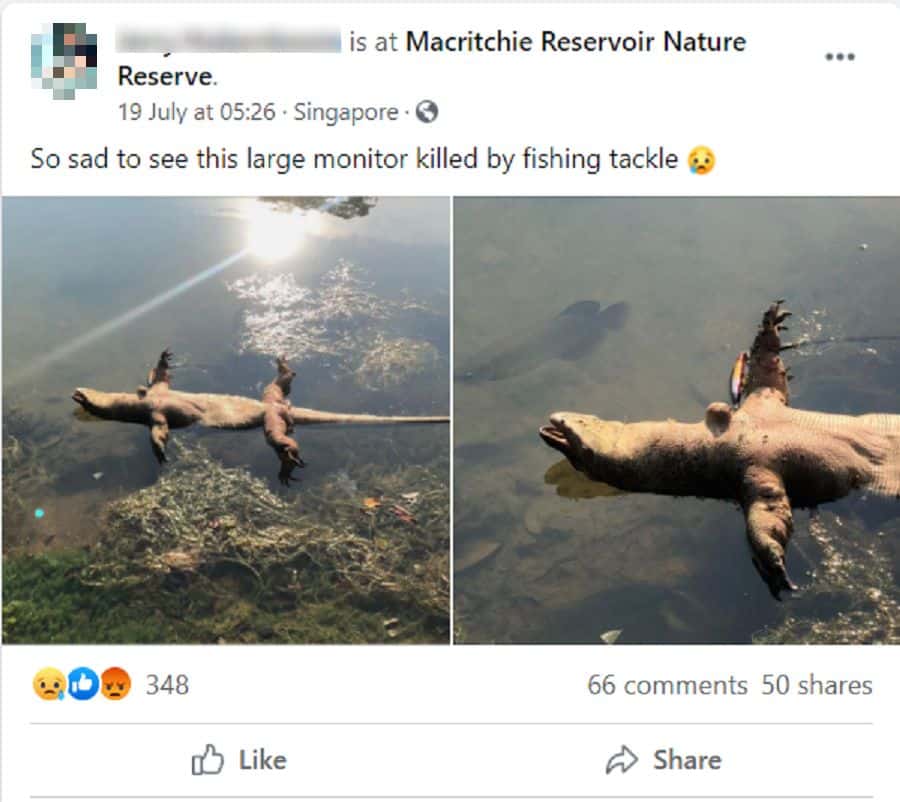 Netizens' Reaction
While a fishing plastic lure was seen next to the creature, there was no evidence in the post that it had caused the lizard's death.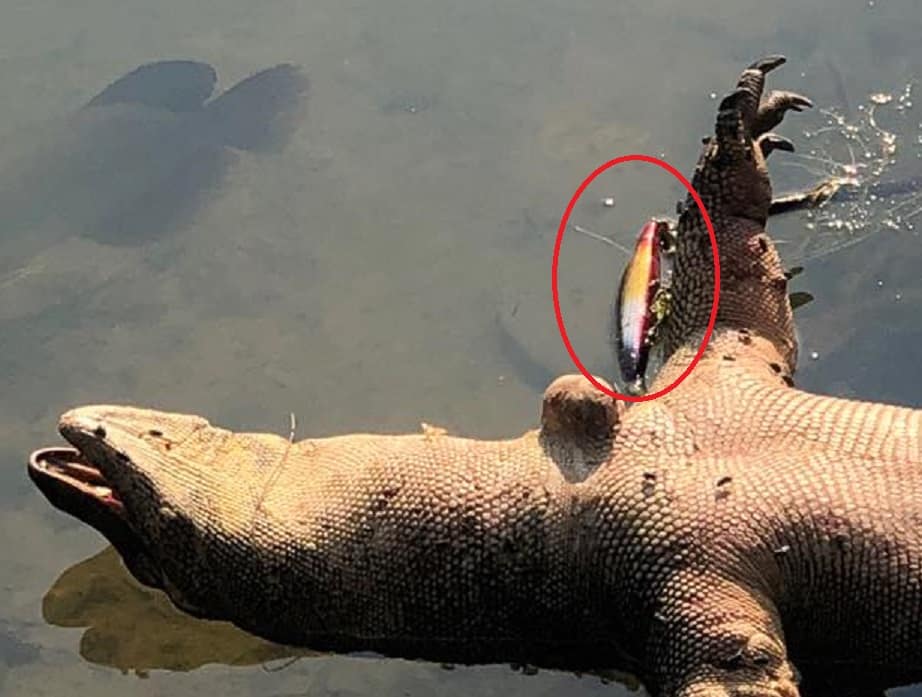 But some netizens were convinced that the monitor lizard was killed due to illegal fishing in the reservoir.
One called for a S$500 fine for leaving behind fishing tackle in the water, as it could be hazardous to sea creatures.
Another pointed out that its throat was swollen, implying that illegal fishing could have caused the lizard's death in some way.
Others, however, weren't as convinced.


PUB: Not Clear if Illegal Fishing Led to Death
Speaking to MS News, PUB said it was aware of the death of the lizard as it was informed about the floating carcass on 18 July.
The carcass was cleared on the same day, it said.
While poaching marks were found on the creature, PUB said it cannot confirm that the monitor lizard died due to illegal fishing activities.
Nevertheless, PUB urged all anglers to fish only at designated fishing sites in the reservoir and to avoid using live bait there.
Anglers should also dispose of their hooks and fishing lines responsibly.
Aside from illegal fishing, there are other things that are illegal to do in Singapore as well, including 'illegal food delivery':
Will Only Attack if Provoked
Unbeknownst to many, the monitor lizard is actually carnivorous, eating everything from insects and spiders to mollusks and fish.
Here in Singapore, they can be found in forests, mangrove swamps, and even man-made canals.
While they are venomous, their venom only has a mild effect on humans. What's more, they will not attack humans unless provoked.
So, as long as you keep your distance from them, you should be safe.
If you witness any illegal poaching or trading of these animals, do take photos or videos of the evidence such as the traps, animals themselves, or the poachers to submit to the authorities.
To make a report, you can call the Animal Veterinary Service (AVS) at 1800-476-1600.
Read Also:
Man Found Lizard Eggs Beneath Wall Sockets
A Person Uncovered a Mystery Animal During Low Tide at Pasir Ris Beach & Some People Regretted Zooming In
Featured Image: Facebook (Singapore Wildlife Sightings)