"Ignorance is bliss," they say.
We're almost certain that this phrase came about when we first found out about just how unhealthy these delicious baked goods are.
Yesterday, online personality XiaXue took to her Instagram stories to remind us of this very fact: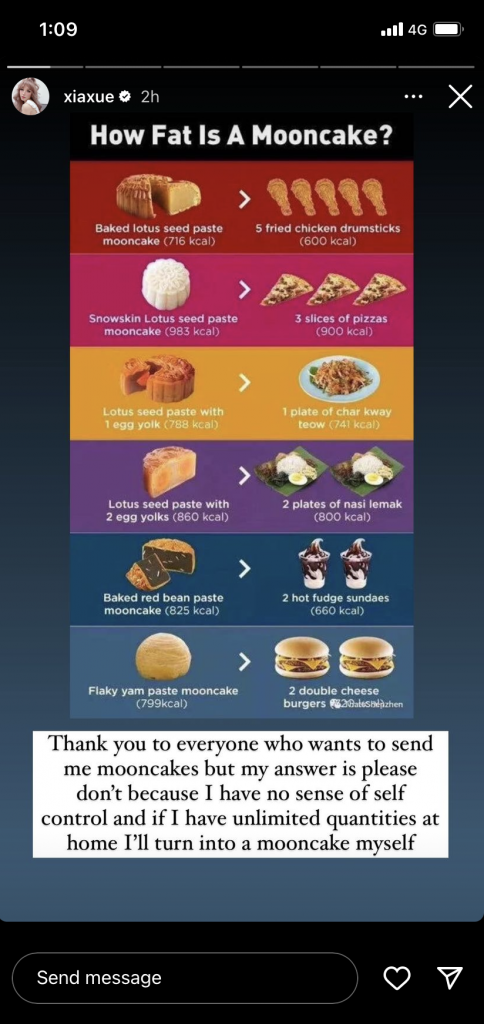 If you're anything like XiaXue and have "no self control", you'll probably be abstaining from mooncakes until the day you die.
$168 "Healthier" Mooncakes Might Be Your Solution
In lieu of Mid Autumn Festival, the brand "Ju Xing Ji", owned by Pan LingLing, Xiang Yun, and celebrity chef Cao Yong announced on an instagram post that they have created a mooncake gift box.
The cost? $168 for a box of 4 mooncakes.
Which also works out to about 2 months worth of an Anytime Fitness gym membership, in case you're wondering.
Each contains 4 mooncakes in the following flavours:
Mixed Nuts (x1)
Pandan Kaya with Single Yolk (x1)
Double Yolk With White Lotus Paste (x2)
The mooncakes are purported to contain less sugar, and are thus supposed to be healthier.
According to the shop's website, the wooden boxes they have designed hold these lotus-filled pastries aim to convey well-wishes of happiness, and can also be repurposed as a jewellery chest.
With every set purchased, Ju Xin Ji will also be giving away some free Pu Er Tea.
Alas, no amount of freebies or good fortune mooncake boxes could mask the fact to internet users that $168 seemed like a steep price to pay for just traditional mooncakes.
Usually, even the most atas box of mooncakes would cost less than $100.
Netizens are Questioning the Hefty Cost
In the r/Singapore subreddit which caught wind of this news, some have expressed their views over the release.
One user speculated on why the mooncakes can be considered healthier:

Another took issue with the fact that the regular ingredients used which could be found in traditional mooncakes do not justify the set's premium price point:

One demanded an additional freebee be provided for it to be worthwhile:

Over in the Hardwarezone forum, netizens shared similar sentiments.
One user noted that "the mooncakes might be healthy, but the price [is] definitely not healthy."
Another wrote, "wooden box cost 100????? then sell 68 can? Use the NTUC clear plastic [bag] hold."
Pre-Order Discounts Are Available
Well, it's definitely not the mass market, but there's clearly a market for this somewhere especially for for those who share XiaXue's concerns.
if you're still interested in giving these mooncakes a go but don't want to fork out the full sum, the company is offering a 30% off pre-sale promotion which you can check out here. Island-wide delivery will cost $10 in addition.
If you intend to wait and buy this when Mid Autumn rolls around, just skip the gym for 2 months and pray that the damage to your wallet is worth it.
Featured Image: Instagram (@juxingji)