For the Southeast Asian region, Kopiko is one of those staple sweets that you'll find tucked in mamak shops or If you're visiting temples, there's a high chance that the sweet is casually lying on a wide red plastic dish, free for the visitors' pickings.
Goody Feed might not be endorsed by Kopiko, but it's undeniable that the coffee-flavoured candy tastes good without being overwhelmingly sweet, and there's very few confectionaries that can match its unique taste.
It lingers in your mouth, it's crunchy, it has this creamy tang at the end that's just delightful on our taste buds. It's no wonder why it's a favourite among many.
Elon Musk Tries Kopiko for the First Time
During a recent meeting with the Indonesian Minister, Elon Musk was presented a chance to try this delightful treat, perhaps as they were taking a break in between their discussions.
The richest man of the world and now Twitter owner didn't pass up the chance, taking the offered bag of candy and popped one into his mouth.
Shortly after, Elon Musk gives a smile and a nod, showing his full approval of Kopiko with two thumbs-up.
That's probably the greatest praise you can get, as a creator of a product.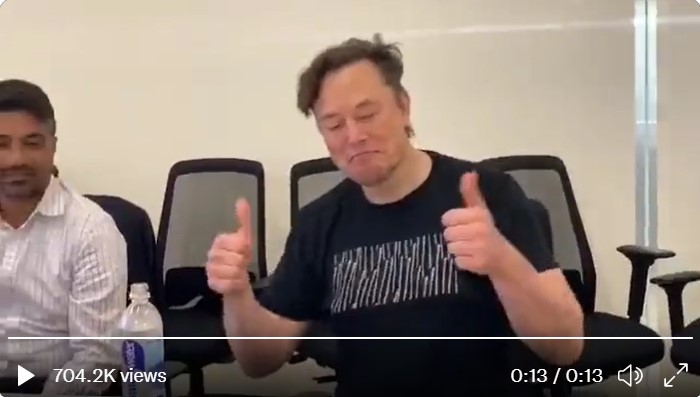 It's almost as if Elon Musk is blessed with Midas' touch, because the stocks for Mayora, the company which produces Kopiko, rose by 7.35% the next day, closing out at IDR1,750 (US$0.12) apiece.
His influence is still far-reaching, his moves unpredictable (read: Dogecoin).
If people haven't heard of Kopiko before, they will now.
How Did It Happen?
Being the richest man alive comes with many perks, like sending a Tesla car to the moon and easily getting meetings with domestic and foreign dignitaries and being treated like you're the next closest thing to royalty.
And it shows too, as Elon Musk casually dresses himself in a simple print-tee and black pants, with slightly unkempt hair, while his companion, The Coordinating Minister for Maritime Affairs and Investment of Indonesia, Luhut Binsar, has a well-groomed appearance with his formal suit.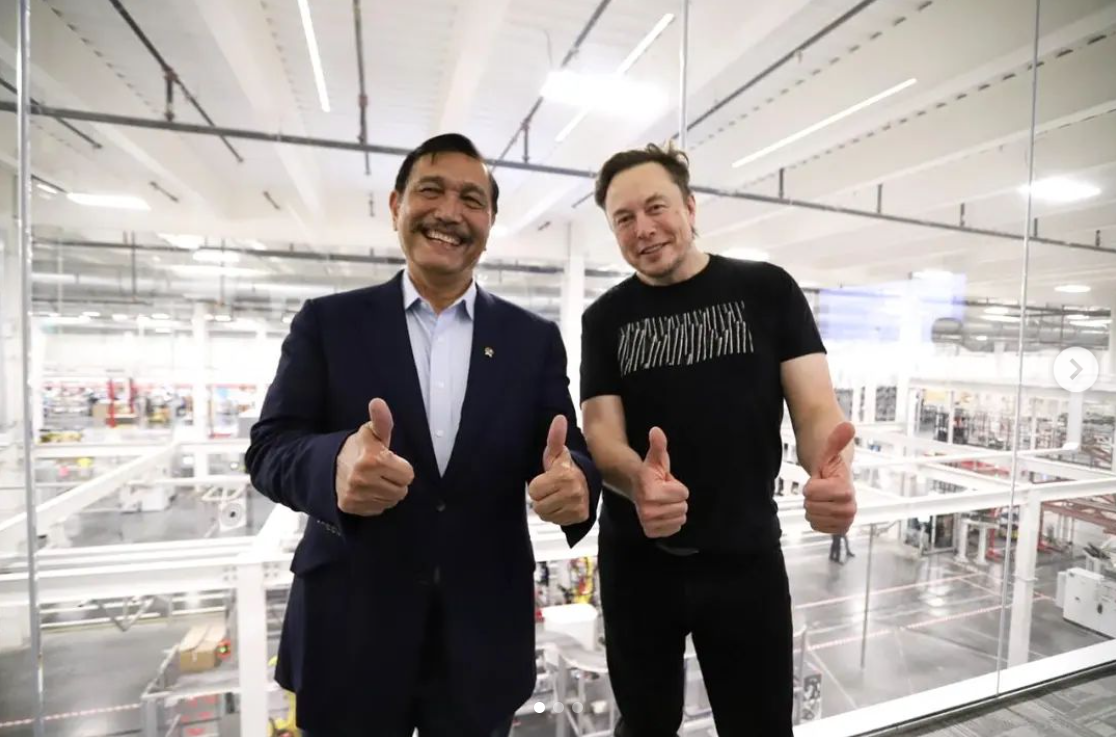 The pair met in Austin, Texas, for a discussion about investment opportunities in Indonesia.
According to Mr Luhut's Instagram post, Musk had expressed interest in Indonesia' nickel processing and electric battery industry. It's an appealing development for the Minister, of course, since Musk hadn't shown such an inclination previously.
The investment is likely to bear fruit too, since Musk has already promised to change his schedule to slot in a meeting with the Indonesian President Jokowi soon.
In exchange, President Jokowi will be visiting SpaceX in the foreseeable future.
How Kopiko suddenly became a topic of conversation was later revealed by Coconuts, who reported Mr Luhut had proffered the candy to Musk due to his founding of the aerospace company SpaceX.
Apparently, Kopiko's reach has gone beyond 100 countries and has taken off to space, where astronauts can enjoy this coffee-flavoured treat too.
Given the space connection, it was only fair that Mr Luhut gave Musk a bag of the famous confectionery.
Mr Luhut definitely came well-prepared, and as the saying goes, "Fortune favours the bold". 
The profits that Mr Luhut brought back to his own country is truly a fortunate accident.
Thoughts from the Kopiko Creator
In the entrepreneurial world, Elon Musk can definitely be considered as an SSR-ranking celebrity.
For Mr Subiakto Prisosodarsono, the wonderful personality who came up with Kopiko 36 years ago, he immediately caught wind of the fact that Elon Musk tried his candy and gushed about it on Instagram. In fully capitalised letters too.
It's frankly adorable.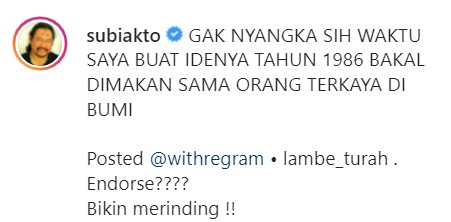 Translation: "I never expected that the idea I birthed in 1986 would be eaten by the richest person on Earth!"
Not something you would have on your bucket list, but you can add it and check it off anyway.
Perhaps Mayora can add an "Elon Musk Approved" stamp to its classic red and black packaging, with Elon Musk's gleaming smile and all.
He has good dental coverage for it, and there's nothing some touch-up can't fix.
Featured Image: Twitter (@txtdarionlshop)