With Singapore reporting four-digit daily cases in recent days, you can bet that the number of people who are served quarantine orders has also increased exceptionally.
After all, remember: If someone in your household contracted COVID-19 and is serving home recovery, everyone in the household would need to be quarantined at home, too.
Unlike last year whereby students who are on quarantine orders or stay-home notices would be barred from taking the national examinations, this year will be different.
Quarantined Students Can Still Take National Exams Like PSLE or O-Level This Year
This morning (26 September 2021), the Ministry of Education (MOE) and the Singapore Examinations and Assessment Board (SEAB) issued a joint statement, detailing the arrangement of national examinations candidates who would be affected by COVID-19.
For a start, special considerations can be applied by students who missed any national examination paper(s) with valid reasons (including COVID-19, medical leave or compassionate reasons). This is similar to last year's arrangement.
The change is, however, for students on quarantine orders but otherwise well.
If they want to take the examinations, they can still do so if they
test negative for PCR test at the start of the quarantine order
test negative for antigen rapid test within 24 hours for the examination paper
travel to examination venue by private transport or foot with no stop between home and exam venue
inform school so that the school can make the necessary preparation
In the exam venue, the students on quarantine orders would be separate from other students, and would be seated 3 metres apart. Their examinations will also start 30 minutes after the scheduled start time for the rest of the students.
COVID-19 Positive and Students on Stay-Home Notice Still Barred from Taking Examinations
Similar to last year, students who are COVID-19 positive or are serving a stay-home notice won't be able to take the examinations.
Here's a neat chart created by MOE and SEAB on the updated arrangement: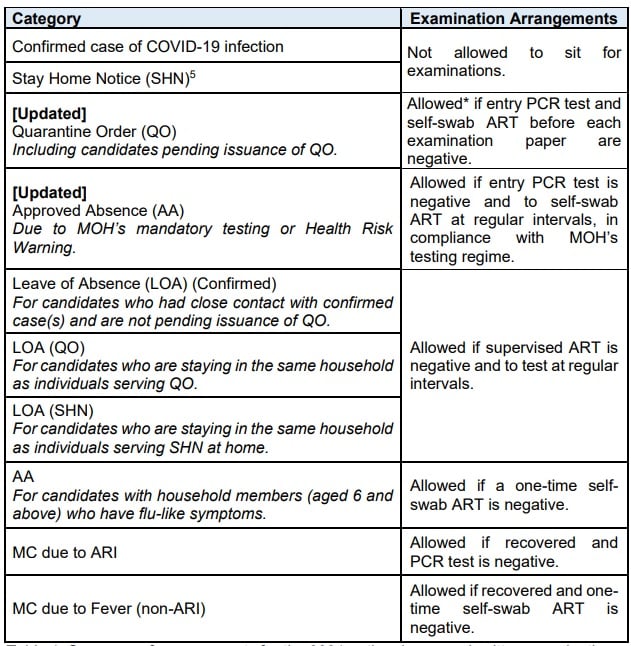 So, what happens if you miss a paper, or all the papers in a subject?
How Grades Will be Derived
Depending on whether the student missed all papers or just some papers, here are the arrangements on how grades would be derived:
For candidates who miss full papers (i.e. all components) in their national examination subject
Using an example of a candidate who had missed his/her PSLE Mathematics examinations due to valid reasons, SEAB will take into consideration the candidate's school preliminary examination results for Mathematics to determine his/her relative rank position among the peers in the school cohort.
This relative rank position will then be used to derive the candidate's projected mark for PSLE Mathematics from the school cohort's performance in the PSLE based on the mark that corresponds to this relative rank position. The candidate's projected PSLE Mathematics mark will be used to derive his/her Achievement Level (AL).
For students who miss one or more papers in their national examination subject
Where a candidate had missed one or more papers of a subject, SEAB would look at the candidate's performance in those papers of the subject where the candidate had taken to derive a projected outcome for the subject, but also take into consideration the candidate performance in the school preliminary examination.
To illustrate, we use an example of a candidate who had missed his/her Paper 3 (Listening Comprehension or LC) in the PSLE English Language (EL) examination, but had attempted the other papers in the subject. In awarding a grade for the affected candidate, SEAB will take the following factors into consideration:
Candidate's performance at PSLE in the other three papers [Paper 1 (Writing), Paper 2 (Language Use and Comprehension) and Paper 4 (Oral Communication)] at the PSLE. SEAB will use his/her total marks in these three papers to work out his/her relative rank position within the PSLE cohort for these three papers. This relative rank position will be used to derive his/her Paper 3 (LC) mark based on the PSLE cohort's LC performance. The derived Paper 3 (LC) mark will be added to the affected candidate's marks on the three other papers to give his/her total marks and derive an AL for EL; and
Candidate's school preliminary examination results – SEAB will compare the relative performance of the affected candidate vis-à-vis other candidates in his/her school. If he/she is ranked at a significantly different position for his/her derived PSLE AL from his school preliminary AL, his/her case will be flagged for further review.
So yes: in other words, getting A's for prelims is important after all.
Read Also:
Featured Image: Facebook (Ministry of Education, Singapore)