One statistic that might surprise many people is that the number of road traffic accidents fell drastically last year to 5,555, from 7,822 in 2019 – a decline of 28.9%.
As a result, overall deaths and injuries also decreased.
There was a simple explanation for this, of course: stay-at-home COVID-19 measures. With fewer people on the roads, fewer accidents naturally took place.
But we've opened up a little more since then, with more people going out to socialise or work.
Unfortunately, that means more accidents are bound to occur.
1 Person Died from a Serious Accident on CTE Last Night (23 July) Involving 6 Vehicles
A serious accident involving 6 vehicles occurred on the Central Expressway (CTE) yesterday night (23 July).
The accident injured 6 and claimed the life of a 31-year-old motorcyclist.
According to a Facebook post by the Singapore Civil Defence (SCDF), it was alerted to an accident along CTE towards SLE after the Cavenagh Road exit at around 9.20pm.
When it arrived, all the lanes on the expressway were heavily congested.
Two cars, a taxi, a lorry, and two motorcycles were involved in the accident.
"A car was completely engulfed in flames, and a lorry and two motorcycles were found turned on their sides. No one was trapped," SCDF said.
7 people involved in the accident were assessed for injuries, including one who had to be given Cardio Pulmonary Resuscitation (CPR) as he had no pulse and wasn't breathing.
Firefighters managed to extinguish the fire with fire extinguishers, two Compressed Air Foam Backpacks, and two water jets, it said.
Two male motorcyclists, one male car driver, one male lorry driver and three other passengers were conveyed to Tan Tock Seng Hospital.
Sadly, one of the motorcyclists later succumbed to his injuries in hospital.
Video Shows Car Engulfed in Flames & Lorry On Its Side
Hours after the accident, a video of the accident's aftermath was shared on the Facebook page SG Road Vigilante.
The video shows a lorry on its side in the middle of the road, while a vehicle, later identified to be a car, could be seen near the road shoulder ablaze, with plumes and plumes of thick grey smoke billowing from the wreckage.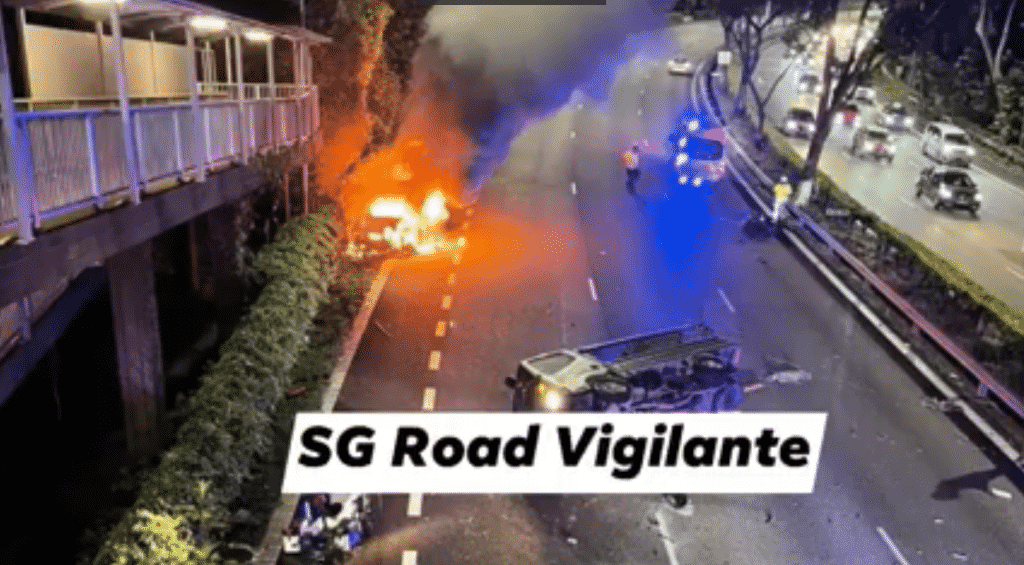 A photo shared by the SCDF showed the extent of the damage to the badly burnt car.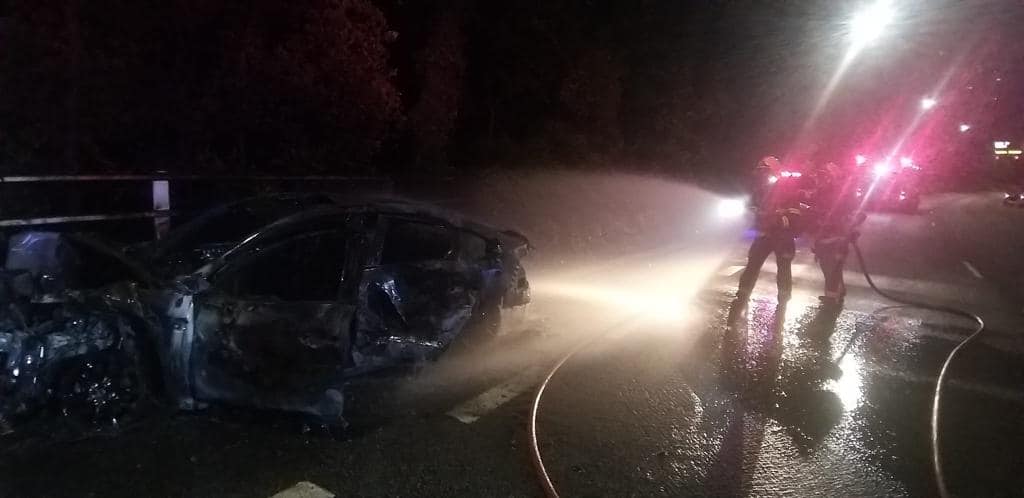 Rescue officers were also seen tending to the injured victims, some of whom were carried off on a stretcher.

The cause of the accident is unclear at the moment. Police investigations are ongoing.
Read Also:
2 Men Arrested for Dangerous Driving in CTE Accident That Resulted in an Overturned Van
42YO Driver Mangled His Supercar in an Accident Along ECP
Featured Image: Facebook (SG Road Vigilante)