Cycling is a pastime that many Singaporeans have taken up especially during the pandemic to find other hobbies that don't involve travelling or going to large-scale events.
It's also a great way to enjoy natural scenery while keeping fit, which many elders would appreciate.
Unfortunately, with many bicycles out on the roads, there are always chances of accidents happening.
Yet, some are left unresolved.
Family Appealing for Witnesses Following Accident
On the path along the Bishan Park Connector in the vicinity of Kuo Chuan Presbyterian Secondary School, one man has been spotted standing alone there with a sign calling for help.
He is the son of an 81-year-old Chinese male cyclist who was left seriously injured and is currently hospitalised.
According to a Facebook post by Roads.sg, there was an accident involving cyclists on 5 June.
His family is thus searching for possible witnesses of the collision accident to come forward, and the photo attached to the post shows the man's son with the sign.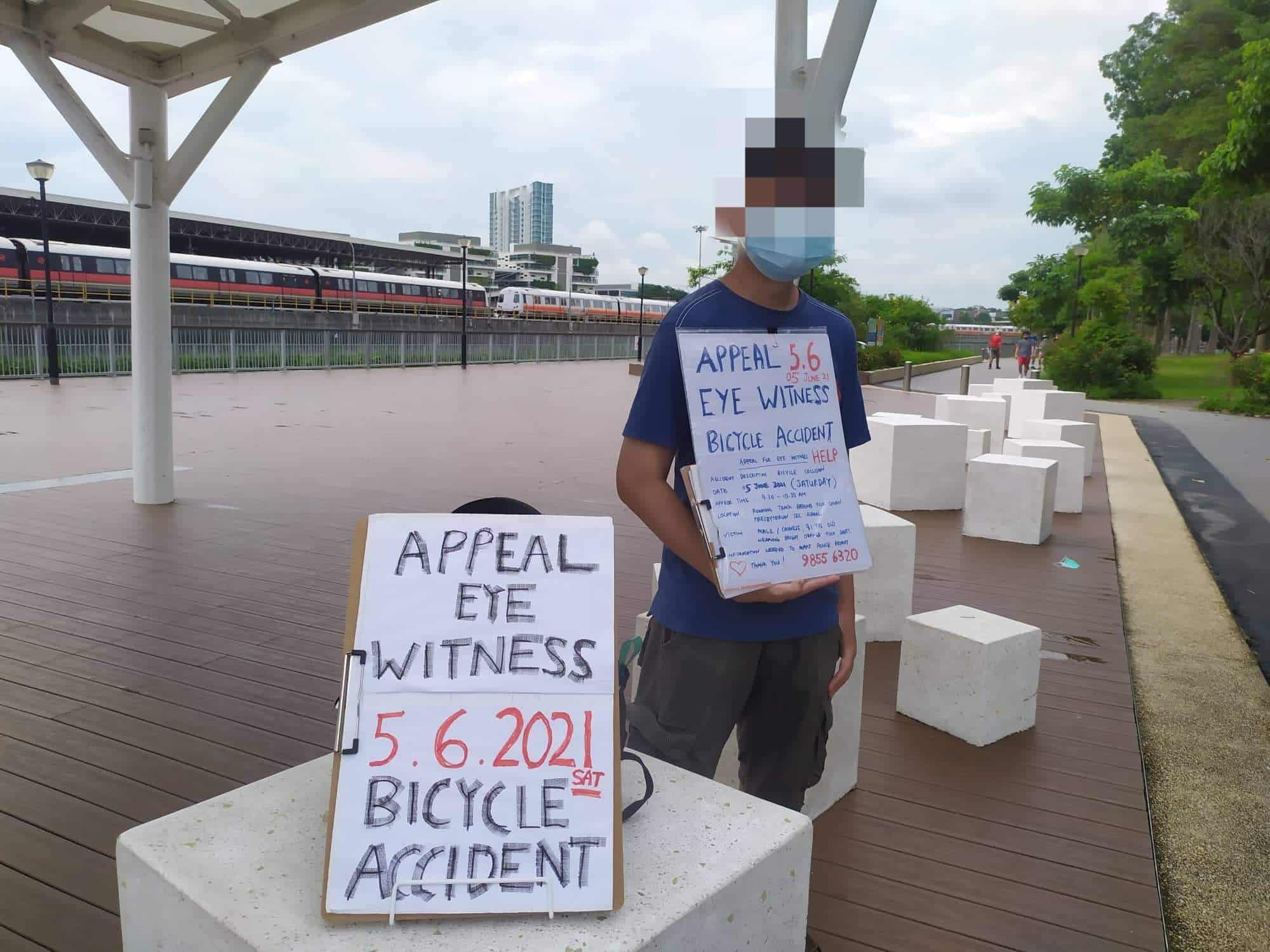 Details of the accident were written on it, including the fact that his father had been wearing a bright orange polo tee when it occurred at about 9:30am to 10:30am.
The family wishes to make a police report and can only do so with more information about the situation, the sign wrote.
Previously, someone had also uploaded a post to the Love Cycling SG Facebook page, which seems to have been deleted as of now.
It was apparently a family member of the 81-year-old victim, who said that her father collided with another cyclist while riding his own bicycle.
As a result, her father suffered from fractures and ended up bedridden.
They are urging witnesses or anyone with information to contact them at the number provided on the sign and the Facebook posts.
Spike in Road Accidents Involving Cyclists Last Year
Although this incident occurred at a park connector, there has also been a sharp rise of road accidents involving cyclists in 2020.
572 accidents involving bicycles were reported in 2020, which is a 25% increase from 2019's statistics of 459 accidents.
This can possibly be attributed to the boost in popularity of cycling brought about by the COVID-19 pandemic, where many new cyclists remain inexperienced and unaware of road safety.
As a result, road safety has become one of the main topics of interest in this year's government review.
So always remember to practice good safety and stay alert on the roads, wherever you're cycling, for the safety of yourself and others as well.
Feature Image: Facebook (ROADS.sg)