A few months prior, Minister for Health Ong Ye Kung predicted that there would be another wave of COVID-19 infections, come July or August.
Not the kind of news you want to hear, but the COVID-19 Ministry Taskforce had assured members of the public that little to no adjustments would be made to current infection controls.
Which basically means life will go on as per normal, don't panic.
As for anyone who came down with the virus, well, food delivery services and your parents will be your best friends for the next seven days of isolation.
Stay hydrated and have plenty of entertainment on your hands, you can tough it out!
The Current COVID-19 Situation
From the most recent statistics provided by the Ministry of Health's website, however, it appears that the wave has arrived earlier than expected.
There were 11,504 new COVID-19 cases recorded in Singapore on Tuesday (28 June), which is double the 5,309 new cases on Monday.
It marks the highest daily number of infections in more than three months.
The last time the caseload was in the five digits—exceeding 13,000—was on 22 March.
Secondly, it should be noted that case numbers on Tuesday tend to be higher compared to the other days of the week as they reflect a small spike in infections after the weekend, when more people go out to mingle for social gatherings.
The week-on-week infection has risen again, going from 1.56 on Monday to 1.62 on Tuesday.
Among the 11,504 recorded cases, 437 patients were hospitalised, with 36 needing oxygen support and 9 in the Intensive Care Units.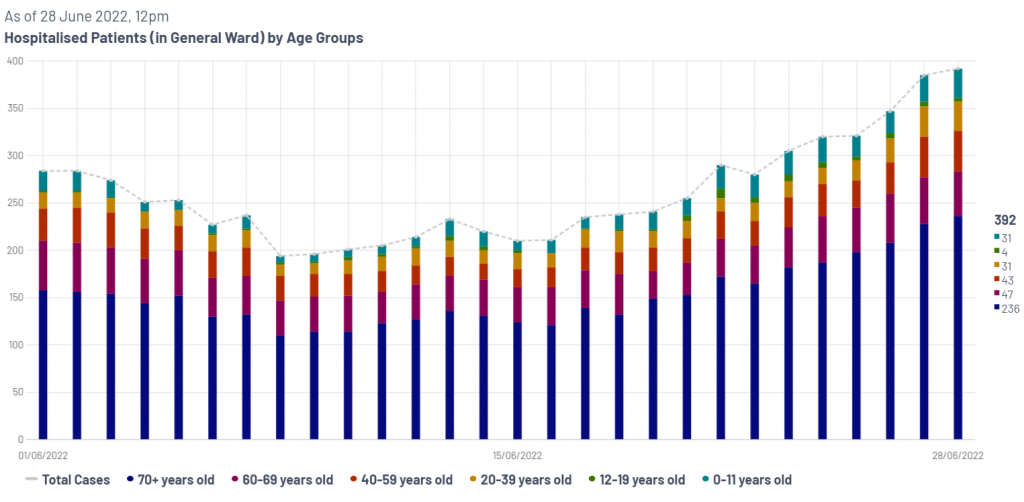 One death was reported.
It was also the first death of a patient under the age of 12, an 18-month-old Singaporean boy.
For the locally transmitted cases, 743 were detected through polymerase chain reaction (PCR) tests, while the other 9,989 were done through antigen rapid tests (ART), which indicates that the patients were either asymptomatic or had mild symptoms.
The last 774 were imported cases.
Ong: Increase in Cases due to Overseas Travelling
During the meeting of the Chinese Development Assistance Council (CDAC), Mr Ong noted that many people have gone overseas, including destinations on the European continent, during the June holidays.
For anyone who likes gaming, you know the school holidays are here when you see more… aggressive typing in chat and hear squeaky voices on comms. There's nothing quite like juveniles bringing their stellar personalities and multilingual curses back into the gaming community.
Anyway, there have been more cases popping up in Europe and the United States due to the Omicron sub variants BA.4 and BA.5.
It's implied that the newer patients have brought back the virus with them, which may or may not have spread to those close to them.
Different immunity systems and their corresponding reactions feel like a coin toss sometimes.
Likewise in Singapore, the MOH said on Monday that BA.5 has contributed to 40% of the cases this past week alone.
Although the surge in infections is alarming, Mr Ong clarified to the Lianhe Zaobao reporters that he didn't believe that the newer sub variants would be as overwhelming as the BA.2 Omicron sub variant wave in February.
Worse come to worst, Mr Ong reaffirmed the comments he made earlier this month (2 June), stating that the healthcare system was prepared to handle a spike in case numbers.
For instance, three new nursing homes have been opened in April so that hospitals can transfer elderly patients with milder symptoms to another care facility, thus relieving the pressure on themselves.
The Health Minister goes on to urge that three doses of the COVID-19 vaccine are required to protect people from the new Omicron sub variants, and calls on the senior age category to get their booster shots as soon as possible.
The booster shots will bolster the safety and effectiveness of their vaccines significantly, providing them protection against the risk of severe illnesses.
As it stands, 92% of the eligible population have completed their primary vaccine regimen, and 78% have received their booster shots.
Having said that, please remember to maintain a high standard of personal hygiene, wash your hands frequently and thoroughly, and wear your masks in indoor settings!
Stay safe, readers.
Featured Image: YouTube (CNA)