"We have temporarily suspended your card. For your security, we Need to Verify your details to reactivate Please call us."
This would have been a scary message, had it not been the curious capitalisations and the missing object to the transitive verb "reactivate". 
Seriously, if you want to scam someone, learn some proper grammar. Especially since you are already taking over a bank's number.
Police Warns of Re-Emergence of Bank Account Suspension Scams 
The police have issued a warning that the scam, where people receive a message alleging the suspension of their bank accounts, has made a re-appearance here in Singapore. 
For greater credibility, these fake messages somehow appear in the same message thread as official messages from banks.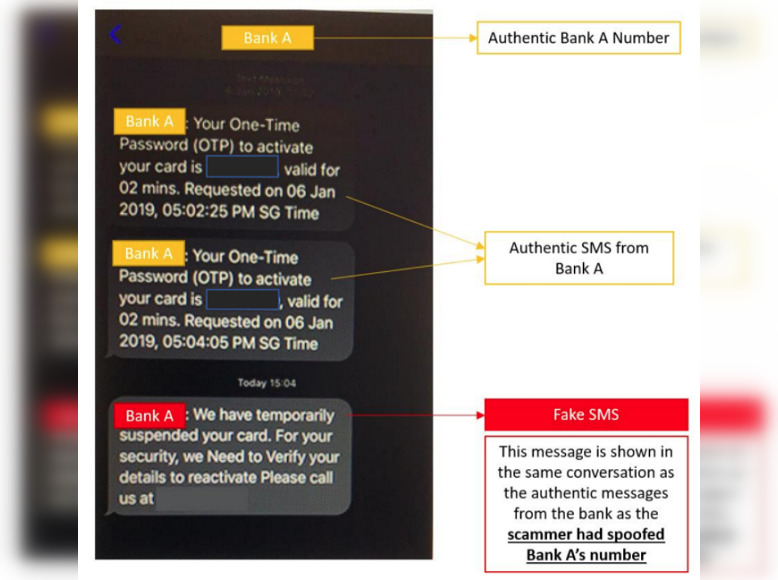 They really went that far, huh. If only they'd rephrase their messages a bit more professionally.
The messages would then instruct customers to call a phone number for further steps, which involves collecting the victims' NRIC and credit card details for totally legitimate purposes such as making unauthorised transfers from their bank accounts.
Come on, won't the bank have your credit card information already?
The resurgence of such scams is part of a wider trend that has seen bank-related phishing scams skyrocket, with the number of reported cases increasing by more than 25 times in the first six months of 2020 compared to 2019. 
The scams caused a total loss of more than $3.6 million.
To stay vigilant of scammers, the police advises that the public should refrain from releasing their banking details and one-time passwords to others, and should use hotlines listed on the banks' websites rather than calling numbers provided in text messages.
Not the Only New Scam
A related scam involving callers who impersonate Singapore government officials surfaced January this year, according to Channel NewsAsia.
The imposter would call the victim posing to be on government business, alleging that there are problems with the victims' bank accounts and that they would have to collect the victims' internet banking details.
Because obviously, a legitimate representative of the government would totally want to be interested in how to access your bank account.
The police advise the public to refrain from panic, clarifying that it is not government policy to request for sensitive information over the phone. 
They could also call a trusted friend or relative for support, given the emotional distress such a scam call can bring.
The victim should also independently contact the relevant government agency to verify if they are really in trouble. Because, guess what, they aren't most of the time.
To know more about scams in Singapore, watch these anti-scam videos to the end:
Featured Image: SPF