The Great Depression was bad, but nothing in human history has been a bigger disaster than Windows 8.
When it first came out, Windows users had the shock of their lives as it looked completely different to the operating system (OS) they had grown to love.
Microsoft was banking on the entire consumer market turning in their laptops for tablets, but that didn't happen.
The company learnt its lesson with Windows 10, as it essentially went back to basics with a few improvements.
Released in 2015, Windows 10 was described as "Windows as a service", as it was gradually updated for free for the first time, rather than releasing a new version of its OS every few years.
But it looks like Microsoft has changed its mind.
Windows 10 to be Retired in 2025 & a New OS Will be Announced on 24 June
Microsoft will stop supporting Windows 10 from 2025, as the company has designed a brand new OS which it plans to unveil later this month.
So mark your calendars, Windows users, because from 14 October 2025, there will be no new updates or security fixes for either the Home or Pro versions of Windows 10.
Microsoft said that their latest OS will represent one of the "most significant updates" to Windows in the past decade.
So, what can we expect?
Windows 11 Leaked Online
According to The Verge, Microsoft's upcoming OS has leaked online, with screenshots first shared on Chinese site Baidu.
Now, videos of the OS have emerged as well, showing a spanking new interface, Start button, and menu.
here's a first look at Windows 11. There's a new Start menu, rounded corners, a new startup sound, and more https://t.co/VDS08QPsl5 pic.twitter.com/OkCyX3TtmI

— Tom Warren (@tomwarren) June 15, 2021
The biggest change is that the app icons along the taskbar have been centred.
You don't have to be Sherlock Holmes to notice that it bears a slight resemblance to MacOS.
Fortunately, there's an option to shift all app icons to the side, where it belongs. 
Another noticeable feature of the new Windows OS is that it uses rounded corners for everything from apps and File Explorer to the Start menu.
Rounded corners are said to be easier on the eyes. It also supposedly makes information within rounded corners easier to process.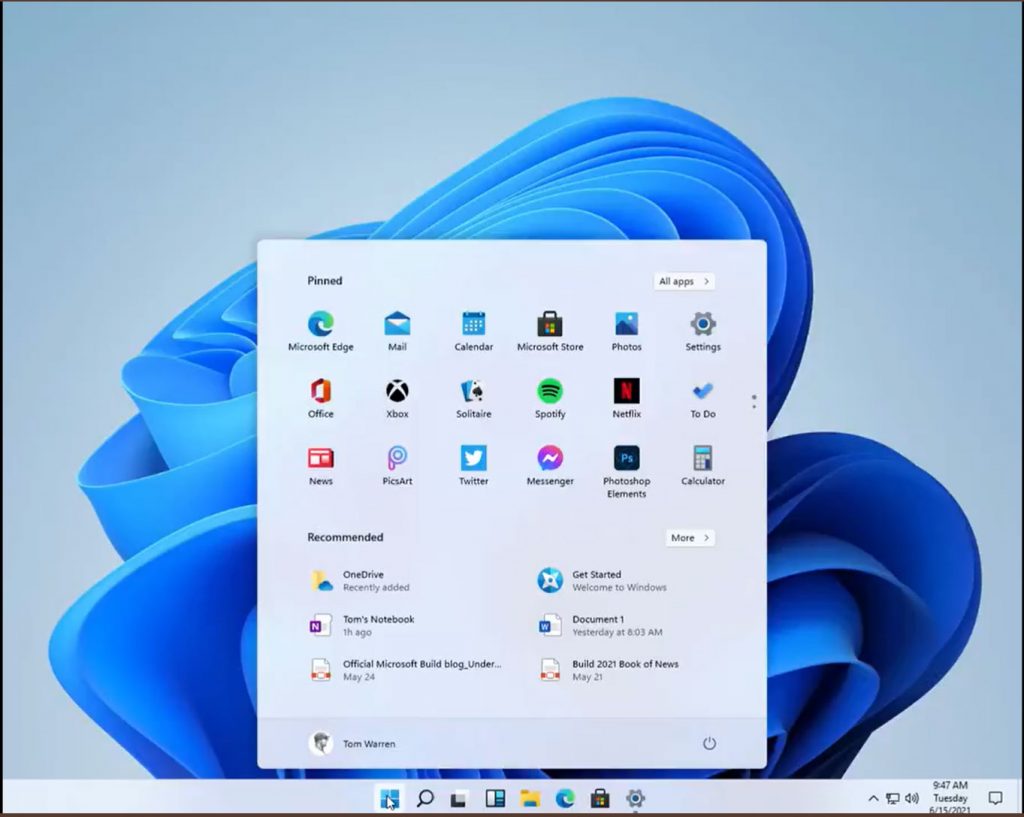 It's also rumoured that Microsoft will be bringing back Windows Widgets, which is designed to provide quick access to news, weather, and other content from the web.
Overall, the OS looks like a simplified version of its predecessor, as there are no major changes.
It's still early days, however, and there'll surely be a long list of new features that we can look forward to.
Microsoft will launch its new OS on 24 June 2021, so we won't have to wait too long to find out.
Featured Image: Twitter (tomwarren)