It seems that the highly popular Ah Boys To Men franchise will be back…
But with a slightly different twist.
So lest you're unaware, Ah Boys To Men 4 introduced us to a core female entity within the Singapore Armed Forces: Apple Chan's LTA Zhang Xinyi.
Considering the film's success, one can say that gender equality was embraced well enough.
And it would appear that Neo's keen to expand upon this particular path, as it has been unveiled that his next titular work will be…
Ah Girls Go Army.
Jack Neo's Next Movie is Ah Girls Go Army That Will Be Out in Feb 2022
Slated for release on 1 February 2022, "Ah Girls Go Army" will explore a "possible near-future" where the local population has decreased so significantly that women will have to join the Army.
So no, it's not about female regulars.
Similar to the very first Ah Boys To Men film, Ah Girls Go Army will see female recruits undergo Basic Military Training under allegedly fierce instructors.
They will supposedly be Singapore's first batch of female recruits: "a bunch of Gen Z teens with different backgrounds and education."
Set to undergo trails and tribulations, these recruits are said to gradually warm up to the concept of National Service over the course of the movie.
During the process, director Jack Neo has expressed his hope to clear an age-old debate here in Singapore:
Can women step up to the plate if needed?
Meanwhile, Ng Say Yong, chief content officer of mm2 Asia Ltd is hoping that Ah Girls Go Army will be the next local blockbuster hit.
Auditions
Apple Chan will reprise her role as LTA Zhang, while other cast members from the Ah Boys to Men series are expected to have cameos.
And it seems that casting is now ongoing.
Apparently, J Team Productions and mm2 Entertainment are hosting an open call for minor roles in the movie.
If you've always wanted to be on the big screen, or wish to see a major production set up close, now's your chance.
Online auditions have started, and the process is relatively simple.
Simply upload a 1 – 3 min video of you acting out a suitable character, and upload it to either Instagram or Facebook.
Thereafter, tag @jteamsg and @mm2singapore, and hashtag #AhGirlsGoArmy.
Do take note, however, that submissions need to be uploaded by 10 October, 11:59pm. Social media profiles will also have to be made public.
Only Singapore-based personnel can apply as well.
Meanwhile, competition will undeniably be fierce.
To date, the advertising posts on Jteamsg and mm2 Entertainment Singapore have garnered 76 and 77 shares each respectively.
Here's further clarification on how the character audition will work as well: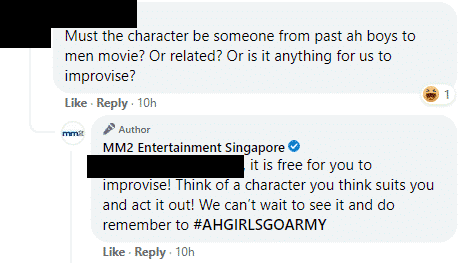 Read Also:
Featured Image: MM2 Entertainment