Just like most celebrities, Julie Tan is quite familiar with receiving tactless comments whenever she shares photos or videos of herself on social media.
In fact, she even addresses the hateful comments she receives online.
In a recent TikTok video posted on Wednesday (15 November 2023), the actress openly discussed her personal experiences with bullying.
She has shared some of the insensitive messages she has received throughout her career in the entertainment industry.
In the video, Tan bravely read aloud one of the offensive comments she had received on Instagram, which stated, "She's been in numerous relationships in the past; she must have STDs!"
Video Addresses Hate Messages and Harassment Online
As the video progressed, Tan revealed that the most traumatic experience of bullying she endured occurred during her younger years when she was subjected to sexual harassment by a group of anonymous individuals. 
She recounted receiving a link to an online forum where she encountered images of herself that had been manipulated and made explicit.
"They had photoshopped my pictures onto naked bodies and circulated those online," said the actress.
She further mentioned that during that time, she was at an age when she was already battling with insecurities about her own body.
"Having people openly discuss and sexualise me only made it worse," she added.
Even though she was deeply traumatised by the incident, she displayed remarkable strength by taking immediate action and reporting explicit comments on the forum to the police. 
Additionally, she emphasised her willingness to flag inappropriate comments on her posts and report them to the authorities.
"A mean comment, even when it seems harmless, can impact victims in severe and even life-changing ways," she said. "They may fear for their physical safety."
Netizens' Response
Tan's video has garnered over 55,000 views on TikTok since its upload. 
The comment section was filled with supportive messages, and many of her followers shared their experiences with online harassment.
Other TikTok users also reacted to the actress's video with empathy and support, understanding the challenges she has endured from a young age due to her public persona.
One user commented, "Some people are just very mean with their words. That's why people also say if you have nothing good to say, don't say."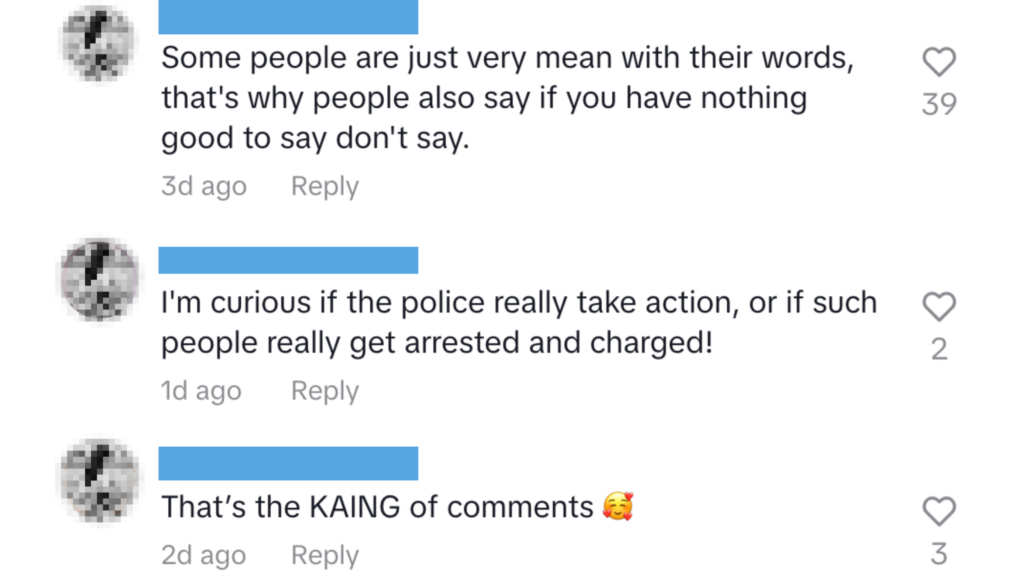 As she had already addressed in the same video, some users indeed left hurtful comments, but let's not dwell on that negativity.
There's no need to give negativity any more of our time.
Tan's show-business career took off when she was just 15 years old, with her debut in the 2008 telemovie The Promise. 
In 2013, she showcased her talent by appearing in movies like Judgement Day and That Girl in Pinafore. She also ventured into hosting A Date with K-pop Stars, which premiered on 21 February 2014, featuring her travels to South Korea and interactions with idols.
The former Mediacorp star has received accolades, including two Top 10 Most Popular Female Artistes awards at the Star Awards.