We have a new scoop for all the kaypoh Singaporeans out there.
The local actor Edwin Goh has been accused of hitting his ex-girlfriend, Ukrainian model Darina Sheremet, after he posted a YouTube video shaming her for being "unfaithful".
Local Actor Edwin Goh Releases Video with New Girlfriend; Accuses Ex-Girlfriend of Being Unfaithful
If you didn't already know, Goh broke up with his ex-girlfriend, Sheremet, in August 2022. Fast forward to March this year, Goh and local influencer-actress Rachel Wan revealed that they were dating.
God, I've seen what you've done for others… When is it our turn with the dopamine?
You can read this article to learn more about the new celebrity couple.
On Tuesday (27 June), the couple released a video on their newly created YouTube account, wherein Goh, 28, addresses the speculation surrounding his past relationship with Sheremet.
And trust us when we say the Internet won't forget about this video any time soon.
In the video, Goh reveals that he and the 21-year-old model had broken up because she was allegedly "unfaithful" during their relationship.
But as a Singaporean icon once said, when you point a finger, "three fingers also pointing me". And boy, did Goh have fingers pointing back at himself.
Edwin Goh's Ex-Girlfriend Denies Being Unfaithful and Accuses Goh of Hitting Her
Sheremet, who turned 21 the same day the YouTube video was released, has since responded to Goh's allegations in the comments of her Instagram post.
The model denied having cheated on Goh and hit back with other allegations, including that he had been violent while they were together.
It's no Mickey Huang-esque allegation, but it's a severe allegation nonetheless.
Specifically, she accused the 28-year-old of hitting her in the face. Swarms of netizens also came to the model's defence, claiming that they saw Goh hitting his ex-girlfriend in Bali.
Talk about a turn of events.
Edwin Goh Allegedly Took Ex-Girlfriend's Money; Did Not Return the Money for Nearly a Year
In response to an Instagram comment, the 21-year-old model added that Goh took her money to pay a $6,500 fine for his drink-driving charge.
You can find out more about his charge here.
That's not all. The model allegedly had to "beg" Goh for months to return her the money.
She even resorted to asking Goh's mother to assist her in getting her money back.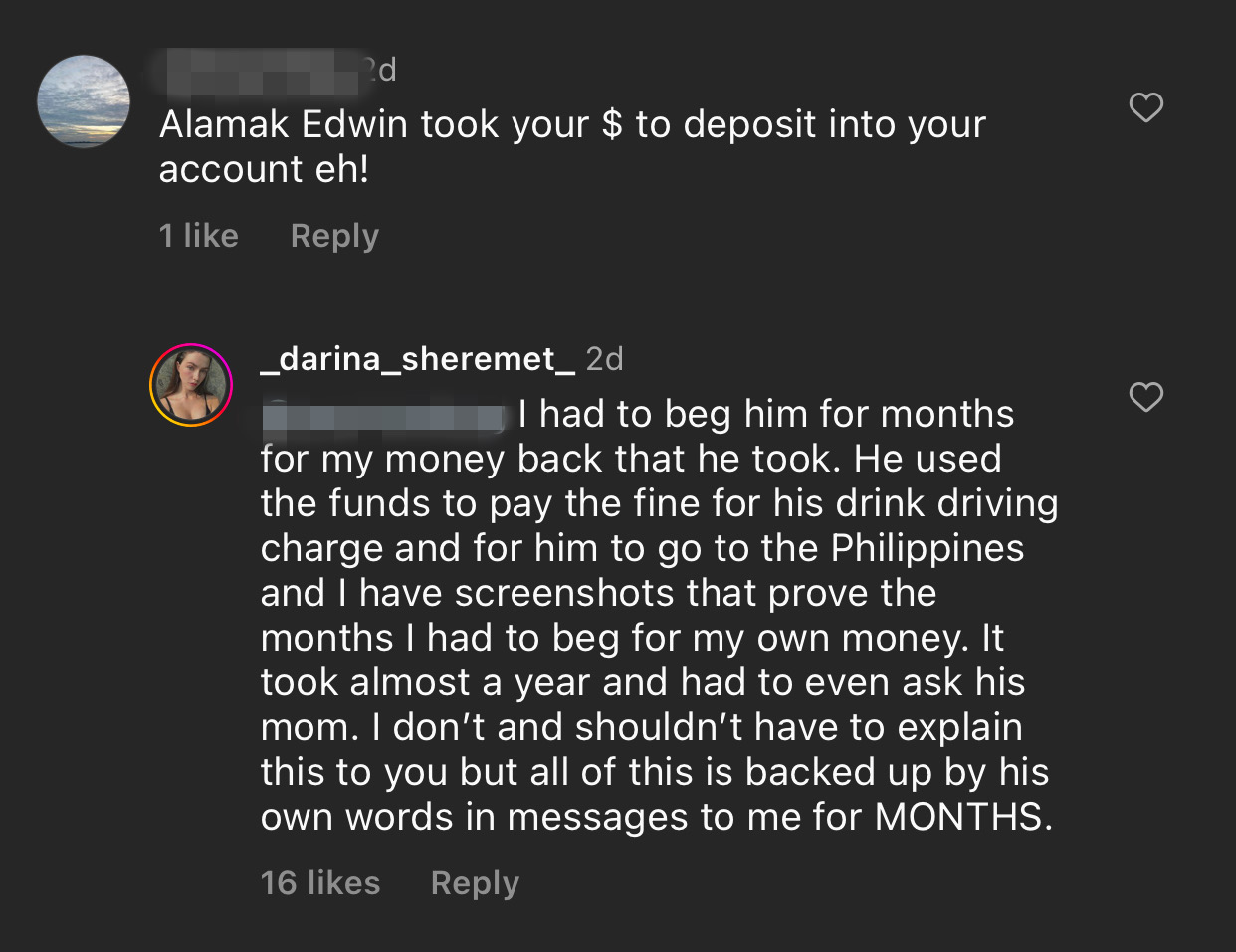 Perfect timing to use the "Alamak…" TikTok audio.
If you thought this was the end of the finger-pointing, you clearly have never seen a high-profile saga play out.
Edwin Goh has since addressed his ex-girlfriend's allegations in an Instagram story.
In response to her allegations of violence in Bali, he denied them, claiming that their relationship ended due to an argument in Bali.
However, he did not respond directly to the money-related allegations. Instead, the actor shared that he had assisted his ex-girlfriend in other money-related matters following their breakup.
Macam Tai Chi master.
Specifically, after the ex-couple's breakup, Sheremet could not return to Singapore as her visa had expired. Aside from helping her to pack, Goh claims that he took it upon himself to deposit her existing cash in Singapore into his account before transferring it to her.
He added: "Even though we had already broken up, I had just wanted to help her and put the past behind us."
The 28-year-old also added that he would take a break and move to Australia with Wan on Saturday (1 July).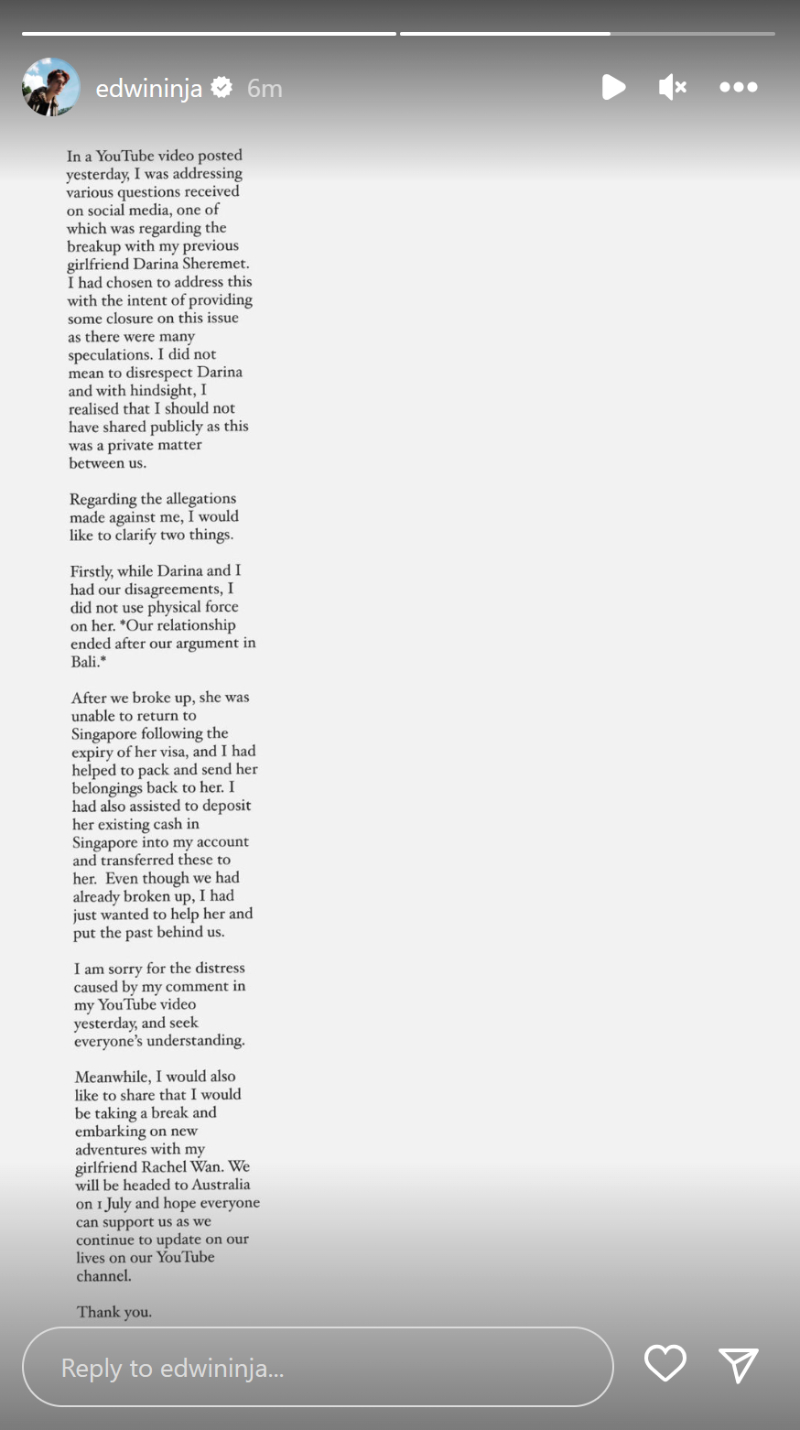 Hopefully, what allegedly happened in Bali doesn't repeat in Australia.