Are you looking to make some extra cash from your shop or office space?
Just a tip: you should probably check if there are any applications you have to make with the Housing and Development Board (HDB) before doing anything with your commercial spaces.
One particular HDB shopowner failed to do so and received a warning from HDB.
Here's everything you need to know.
Yishun Shopowner Illegally Partitions Commercial Unit's Living Quarters into 4 Rooms; Intended to Rent Out
The authorities recently caught an HDB shopowner for illegally partitioning a commercial unit's living quarters into four rooms.
The reason it was illegal? The shopowner did not seek HDB's approval.
Honestly, it's a good rule of thumb to think of HDB as your tiger mum—you should probably seek HDB's approval before doing anything to your unit, be it residential or commercial.
The commercial unit is located at Block 731, Yishun Street 72. Ah, Yishun again… From the looks of it, the illegal partitioning is probably just the tip of the iceberg.
The living quarters of the commercial unit, not to be mistaken for a typical HDB flat, were previously listed on PropertyGuru, and advertised online as being split into four rooms.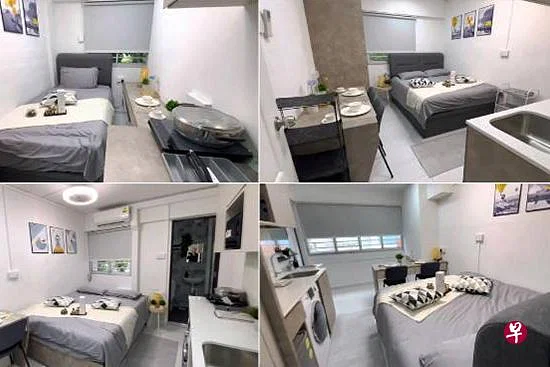 Several of these rooms even have their own toilets and kitchens attached. Imagine if work-from-home arrangements were still a norm—a room here would be paradise. You could be on the Zoom call one moment and cooking up some kaya toast for breakfast the next.
Such convenience, of course, comes at a price. According to online advertisements, the rent for each room ranges from $2,100 to $2,900.
This means that if all four rooms were rented out, the shopowner would earn up to $10K from collecting rental fees alone.
Talk about a windfall.
Shopowner Failed to Seek HDB Approval; Receives Warning
As with all stories, however, there comes a twist.
The authorities caught the owner of the relevant commercial unit for failing to seek HDB's approval not only to carry out renovation works but also to rent out the rooms.
And so he received the adult property-dabbler version of a timeout—a warning from HDB.
Kids, this is why your teachers always tell you to do your homework first.
Based on HDB's guidelines, the owner was required to obtain HDB's approval before carrying out any Addition & Alteration (A&A) works, which includes the construction of non-structural partitions to create additional rooms. The owner was also required to seek HDB's approval before renting out the living quarters of the commercial unit.
HDB has since warned the owner and ordered the owner to submit the relevant applications. Online advertisements for the unit have since been taken down, and the owner is also to reverse any unapproved renovation works in the unit.
Ah, you wished this were just a game of Monopoly.
Local news has been flooded with different scoops on the housing market recently.
We have news of HDB flats being sold for prices that don't seem very "HDB-priced" and even tenants being ghosted by flat owners.
Earlier this month, a 36-year-old woman paid $10K to rent an HDB flat in Woodlands, only to discover that the owner had rented the flat out to others. When the 36-year-old demanded a refund from the owner, the owner ghosted her.
We hope this flat owner isn't on dating apps…