If you've come across Henry Thia, fondly known as Hui Ge to many, promoting an illegal gambling platform in YouTube, fret not: he's not involved in the platform, so you can still watch his livestream on TikTok every day.
Here's how the 71-year-old was duped into making an ad for an illegal gambling platform.
Henry Thia Appeared in YouTube Video Promoting a Gambling Platform
It all started two days ago when people started to notice that Henry Thia appeared in a YouTube video that plugged an app, although the video has been up for almost a month.
In the 56-second advertisement, the first 46 seconds were innocuous; it just showed Thia torn between whether to download an app.
Eventually, he revealed the app, and it turned out to be a gambling platform.
However, in the video, Thia did not specifically speak about the app; instead, he just said, "Hurry up and download!"
The app was then superimposed on the screen.
With the Terence Cao's case still fresh in our mind, you can bet that everyone went apeshit.
The video has since been taken down.
According to the Gambling Control Act in Singapore, all unlicensed gambling activities are banned.
For the uninformed, the only company licensed to offer lottery and sports betting services in Singapore is Singapore Pools.
Therefore, even if the platform is based overseas, such platforms are considered illegal gambling platforms if they do not have any valid service licence. It is also illegal for individuals to assist in the advertisement or promotion of such websites.
Therefore, Thia's alleged actions might be considered a breach of the Gambling Control Act.
The Irony in the Story
What's even more ironic is that Henry Thia is managed by King Kong Media Productions, a company started by Mark Lee. The company also managed other artistes like Marcus Chin,  Jaspers Lai  and former SGAG star Ee Chiou Huey.
About four years ago, Mark Lee revealed in a heart-warming video that he used to be a gambling addict, and he's since now recovered from it.
Therefore, because every gig Henry Thia do would have to be done through King Kong Media Productions, it won't reflect well on Mark Lee if he had approved this latest project.
It turned out, he didn't.
Henry Thia Duped into Making Ad to Promote Illegal Gambling
After a police report was made about the advertisement, King Kong Media Productions had come out to clarify what really happened.
In a statement, they said that in "the middle of 2022, the company received an invitation from an advertising company in Malaysia to get Henry Thia on board to promote a livestreaming platform."
They had asked about the nature of the livestreaming platform, and also added a clause in their contract to specify that it wasn't to promote any illegal activities.
During the filming process, Thia and his agent went to Malaysia to complete the filming, and nothing seemed amiss.
In fact, the advertising company (usually, most media firms work with advertising companies that represent the client) even sent over a copy of the final advertisement.
They added, "However, the uploaded video is not our company's approved version. The video had been edited to include parts on illegal gambling in the final 10 seconds."
That is the reason why Thia has not spoken about the illegal gambling platform explicitly, but merely encouraged people to "download it".
They've since hired a Malaysian lawyer and will be taking legal action against the advertising company and the "livestreaming platform".
Mark Lee said in an interview with Shin Min Daily News that he took responsibility for not doing enough checks on the platform.
As for Thia, it's revealed that he wasn't affected by it much since he hadn't done anything wrong.
So yes, you can probably still see him on TikTok tonight.
I'm not the only one who knows that he often livestreams on TikTok nowadays, right?
If this sounded like deja vu for you, it's because this sounds like what happened to local veteran actor Terence Cao earlier this year.
Similarly, people tipped the media off after finding him in videos that were promoting a gambling website.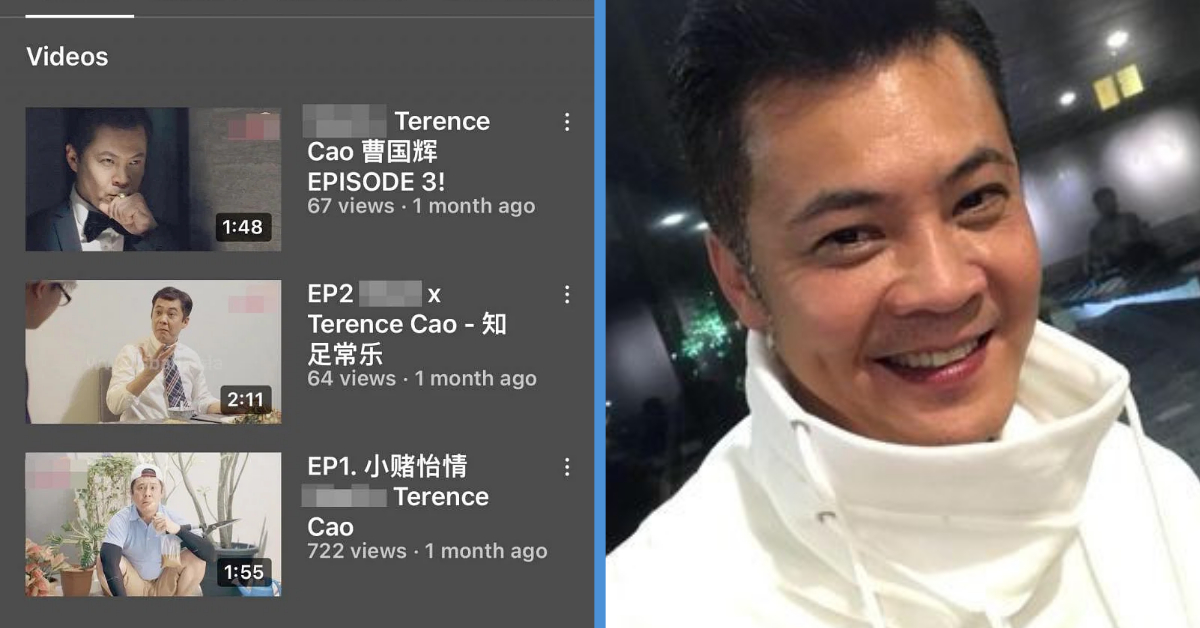 However, that was different as Cao kind of knew what he was doing.
He said that a production company that he has never worked with before contacted him to be featured in the videos, and he added that he was unaware of the context and background of the website.
He then claimed that the videos were advising people not to gamble.
In the videos, Cao, 55, played multiple roles and promoted the "joy" that comes with gambling in small amounts.
One of the videos lasted one minute and 40 seconds and included Cao acting as two different weeders. One of them mentioned that he lost $500 to gambling while the other tried to persuade him to stop.
However, the latter pulled out his mobile phone afterwards and said that he had won $50.
The website's logo was also shown at the end, suggesting that the person who won money used the website to place his bets.
Not sure how that could be interpreted as an anti-gambling plot.
A police report has since been filed, and investigations are ongoing.