There's a stereotype that Singaporeans all clamour at the prospect of receiving something for free, no matter what it is—and maybe it's true.
On the first day of the free Bloobox distribution, the boxes ran out of stock at many locations, grabbed up quickly by enthusiastic Singaporeans. 
Whether it's because we're really excited about recycling or just desperate for freebies remains to be seen.
What's A Bloobox?
If you're guilty of not enthusiastically doing your part to save the Earth as you claimed during your secondary school oral examinations, you might not be familiar with the Bloobox.
Basically, the Bloobox is a home recycling box distributed as part of the Recycle Right campaign by the National Environmental Agency (NEA).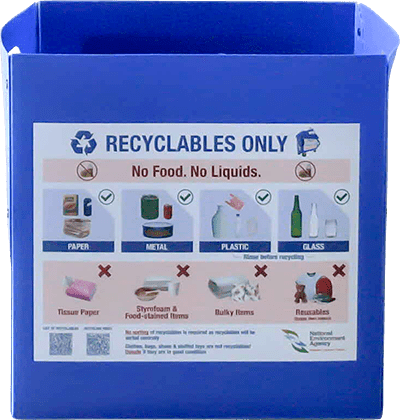 It's designed in collaboration with students from the Singapore Institute of Technology (SIT) and aims to start a habit of recycling at home, as well as reducing contamination in existing blue recycling bins. 
It can hold up to 5kg of plastic, paper, metal, or glass recyclables. It has a removable divider to create a separate compartment for electronic waste like lightbulbs or batteries. 
To ensure convenience, it's foldable, washable, and reusable, and even has instructions printed on it of what can and cannot be recycled. 
Blooboxes Out Of Stock On First Day
Singaporeans responded enthusiastically to this initiative—on the first day of distribution, 38 collection locations ran out of these boxes. 
There are a total of 140 collection locations across the island. These boxes can be collected from vending machines at community centres, bus interchanges and public areas.
According to the official website https://www.gowhere.gov.sg/bloobox, at around 8 pm on Sunday night, the boxes were out of stock at 38 out of 140 locations, including places with heavy footfall like Ang Mo Kio Bus Interchange, Bedok Community Centre, and a void deck in Jurong West. 
The stock at vending machines is also running low at Bukit Batok East Community Club, Toa Payoh Bus Interchange, and 24 other locations. Every machine can dispense 72 boxes, and NEA will replenish this supply regularly to ensure every household can obtain a Bloobox. 
Distribution started on 19 March and will end on 30 April. 
As long as you have an NRIC number or FIN and a local residential address, you can collect these free Blooboxes too. 
The initiative was first piloted in November 2022, where boxes were distributed to residents of five neighbourhoods, including Yio Chu Kang, Tampines North, and Yuhua.
According to Senior Minister of State for Sustainability and the Environment Dr Amy Khor, it is hoped that these Blooboxes will encourage residents to set up a recycling corner at home so they will recycle more regularly and recycle right.
Existing blue recycling bins are often contaminated with objects that cannot be recycled, resulting in the disposal of the rest as well. Around 40% of these bins are contaminated. 
"When there is contamination, the other items cannot be recycled, and it is a waste of others' recycling efforts," said Dr Khor. 
She also added that by encouraging residents to recycle more and recycle right, the amount of waste going to Semakau landfill would be reduced, and carbon emissions as well.
The waste collected in Blooboxes can be dropped off at blue recycling bins or recycling chutes at newer HDB blocks. 
You can watch this video about how to start recycling with your Bloobox.