Cristiano Ronaldo was in Singapore recently to show his support for his close friend, Peter Lim's scholarship. Unfortunately, not all parts of his visit was filled with happiness, and it was caught on video.
Netizens Blame Wong Li Lin For Allegedly Making Christiano Ronaldo Unhappy During Group Photo
TikToker @khan_7yt uploaded footage of Cristiano Ronaldo preparing to take a group photo at the Singapore Botanic Gardens on 7 June 2023.
The scene was bustling with excitement, which is normal given the scale of the star footballer's fame.
What's not normal, however, is the expression on Cristiano Ronaldo's face: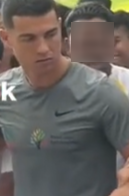 Could it be the weather? Was it the crowd? Or maybe, he just wants to go back to Our Tampines Hub and buy more Adidas soccer cleats?
Well, according to @khan_7yt who was at the scene, there are two possible theories why the beloved footballer showed such an expression on his face.
Theory 1: He was Getting His Security Guards to Move Away
According to the TikToker, this is the likelier reason behind Ronaldo's irritability.
In the video, he was shown gesturing for his security guard to move away, understandably since there isn't enough space for the NParks-Peter Lim Scholarship recipients in the group photo.
"In my opinion, I think it's because he asking his security guards to move away, which when you analyse the video properly is I think is the main reason he looks so irritated."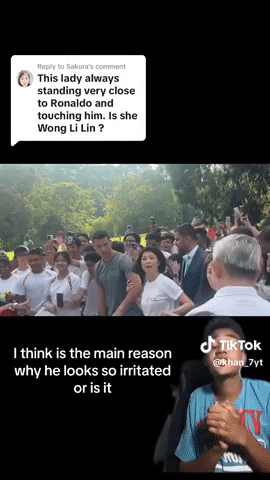 However, there's a second theory which netizens seem to think is likelier.
The second theory, he proposed, is that Ronaldo was unhappy at being in his personal space.
In the video, Wong Li Lin was spotted hanging on tightly to the footballer star's arm while getting ready for the group photo.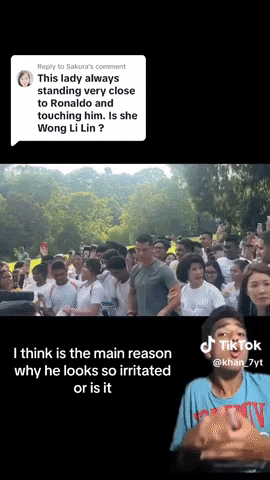 It seems to be the more popular opinion.
Netizens felt that it was reasonable for Cristiano Ronaldo to feel irritated, given that his personal space has been invaded.


There were some, however, who felt that it could have been the weather.

One netizen urged for others to be kinder in their words.

As for why Wong Li Lin was there at the scene, she is the chief executive of Mint Media Sports.
To be honest, though, her actions in the video made her look less like an ardent fan, and more like your school principal trying to get everyone to behave momentarily for a group photo.
Mint Media Sports is owned by Peter Lim and has Ronaldo's image rights since 2015.